by Tim Mattox
I smell cake! If it's December you know it's time for Rod Piazza to light that candle and everyone is cordially invited. On Sunday, December 13th the birthday boy hosts his 7th Annual Birthday Blues Festival at the American Legion Post 79, Fairmount Park in Riverside. As is the tradition just prior to the arrival of Santa, Rod and Honey Piazza and the Mighty Flyers hit the stage with some of Southern California's most talented musicians for a day-long, old school, swing dance, blues harp-blow down.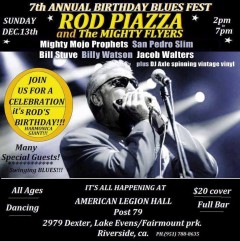 The party this year is slated for a 2pm start time and promises another stellar line-up. The Mighty Mojo Prophets are back as is San Diego's electric Billy Watson. Bill Stuve, the multi-talented San Pedro Slim and Jacob Walters round out the December playbill. And like every Piazza Birthday celebration fans will be treated to and delighted by a number of very special surprise guests.
Over the years the Piazza show lineup has incorporated an incredible number of new artists and fresh blues talent. "Yeah, its shows they normally wouldn't get on." Rod says. "With me it's not based on how many you're gonna draw; it's based on what you play. That's why it's the people you've seen on there." Turns out welcoming the next generation to come up and play is a long-standing blues tradition that Piazza knows only too well. Rod said when he was coming up in the '60s; he too was invited onstage to play at the Ash Grove in L.A. The harp player extending that invitation would become Rod's life-long friend, George 'Harmonica' Smith. It seems with the blues what comes around…. comes around. "Yeah, that's exactly what it is, man. You know, shoot, these guys have been coming to watch me play for so long, they're ready to get up there and do their thing."
The annual Piazza fest is the closest most of us will ever get to experiencing some of those legendary gatherings on Chicago's Southside during the '50s and '60s. An event where friends, fans, and fellow musicians all come together for an electrifying and raucous display of high-energy "blow-your-face-off" blues harp one-upmanship.
The party atmosphere of this event often finds friends and fans sitting next to or hanging out with the very performers they just saw onstage. And according to Piazza, that's the way he likes it. "Well realistically, there's not a big ego thing for anybody who's really a blues player, you know? You play them all, from the tiniest little places to the big festivals and there ain't no room for an ego, so when you meet these guys, most of them are pretty easy to talk to and that's the way it should be."
One of the returning highlights to this year's party is a harp monster from San Diego named Billy Watson. Watson, a long time friend and surfing buddy talked about getting to know Rod Piazza. "I have been to about four of Rod's Birthday parties. The first one I attended with surfboard shaper and entrepreneur Bill Stewart. Bill and I met at Iva Lee's in San Clemente and he told me Rod surfed. It was a huge honor to meet and go surfing with Rod at Old Man's in San Onofre. He invited Marty Dodson and I to meet him there and that's kinda' how I got to know both of those guys. We would surf and then sit around telling stories well after the sun went down."
This is year seven of Rod's Birthday event, what do you think gives it the longevity? "The best part of Rod's parties is all the people are super loyal fanatics." Billy says. "And they love to be there. The gig takes place in an American Legion hall with a stage and wings and hidden stage entries. It's a real show. The special guests are usually a who's who of blues from the Southern California region. Sadly, Johnny Dyer passed away and this year he will be greatly missed."
As a multi-year returnee, any memorable moments come to mind? "My best memories are when Rod announces me to the audience. He always turns it into a roast. Then when I am up there playing, it is huge to see him standing over by the wall laughing at my jokes and encouraging my performance…pushing it to an all time high. It's a great show because you see so many harmonica players and blues lovers all just digging the scene with not one shred of negativity! Ya gotta go!"
The Piazza Birthday Blues Fest lights it up at 2pm on Sunday, December 13th at the American Legion Hall, Post No. 79, 2979 Dexter Dr. on Lake Evans in Fairmount Park, Riverside, CA. Not that you need one but an additional incentive that proves that Christmas does comes early… the show will only set you back $20.
And to give the birthday boy the last word… "I appreciate so much that everybody has supported it for all these years," Piazza says. "And it's going to be the same good time this year."