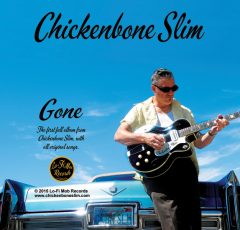 Members of the local blues community will know Chickenbone Slim (aka Larry Teves; see feature story this month) and his band the Biscuits either in their current form, or from his previous stints as bassist and vocalist with several prominent outfits including the Mississippi Mudsharks and Boogiemen. Now, he has taken up guitar and writes his own songs—but the music on his debut album, Gone, has a sense of familiarity to it. That is because Chickenbone, or Teves, doesn't try to reinvent the wheel; it is five-piece harp/guitar/bass/drum, with a second guitar for good measure; the songs are 12-bar studies in blues themes with pentatonic-based solos. The payoff here is in the Chickenbone personality and vibe that permeates most of the tracks.
The players on hand include Teves on lead vocals and guitar, Jon Atkinson on harp (and guitar on one tune), Danny Michel on guitar, Mike Chiricuzio on bass and vocals, and drummer Marty Dodson. The disc was recorded live in the studio by Michel and Atkinson. The result is a lo-fi mix that has advantages in avoiding presenting the road house blues here as slick and offering a glimpse of a gig experience. The disadvantages include drums and bass being frequently buried, with a muddy midrange that is dominated by Atkinson's take-charge harp. Teves' vocals work well throughout, though.
"Tomcat" is the opener, dedicated to long-time local bluesman (and former Teves bandmate) Tomcat Courtney, and the story of a mean black cat owned by Teves that ruled his neighborhood. Atkinson's harp blows like a demon, and completely dominates the track. Teves takes some lead guitar on "Tryin' to Get By," a shuffle that has his licks avoiding showy technique in favor of a clean and fundamental, "less is more" approach. The disc highlight is heard on the title track as it pushes a rock beat and sharp Atkinson guitar solo while Teves sings, "I need some grease in my diet."
Chickenbone scores again with "My Legs Don't Work," with some crafty lyrics about one of those moments many of us have experienced at a party after "something that we ate or something that we took." It also has an irrepressible rolling beat and a nicely carved guitar break. "Blues for Christmas" is a 12-bar blues tune that slows things down for nine minutes as Atkinson and Teves make some harp and guitar statements, with lyrics about power cut off on Christmas Eve and other bad things that happen when you are a bluesman during the holidays; "My baby left my stocking full of coal." Both guitars dominate "Pistol in Your Pocket," with Michel taking the opportunity to stretch out—the band almost does a blues déjà vu with the similar "Good Stuff" being sequenced next.
Gone is the kind of blues-combo music that recalls many Texas and West Coast acts since the 1980s, which have carried on the tradition, valuing what has come before, playing tight, and mastering their instruments. Chickenbone Slim's debut effort fits right in.