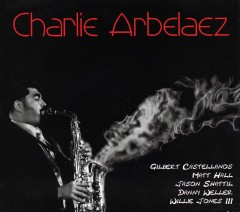 The bygone days of the Albatross, Elario's, and Chuck's Steak House, where one could hear mainstream jazz back in the 1970s and '80s, are long gone, but current hot spots such as 98 Bottles, Croce's Park West, and Dizzy's have replaced them in a renaissance of mainstream jazz that is sweeping across sunny San Diego. One of the new faces on the scene is alto saxophonist Charlie Arbelaez.
Any doubt about the caliber of Arbelaez and his quartet, comprised of Jason Shattil on piano, Danny Weller on bass ,and Willie Jones III on drums are quickly dashed a few minutes into the opening track, "Appointment in Ghana," a hard bop classic scrolled by alto sax legend Jackie McLean. Arbelaez, who spent four years in the Marine Band, honing his chops, solos effortlessly over the chord changes, even over blowing some notes sharp in true McLean fashion.
"Killer Joe's" sister tune, "Along Came Betty," is the perfect cool jazz swing tempo for all to shine, with trombonist Matt Hall augmenting the quartet, with chops that San Diego hasn't heard since trombonist Hal Crook boarded up his jazz school on Mission Gorge Road and skipped town.
"Moontrane," penned by the late trumpet legend, Woody Shaw, adds local trumpet hero and producer of the CD, Gilbert Castellanos, to the session. After the neatly arranged polyphonic head, Arbelaez takes flight into a wonderfully phrased combination of sustained notes and frenetic flurries of Coltrane inspired licks, followed by a nifty solo by Hall, ornamented with dynamic staccato punches throughout. Castellanos then glides in with his usual solo wealth of bop and blues-flavored phrases. Shattil's piano solo, on this track and throughout the disc, is magical, with onslaughts of inside and outside tonal combinations, played with a McCoy Tyner intensity, complete with tasty chord clusters at each solo's zenith.
Acquiring a taste for listening through an entire recording of bebop-inflected tunes, is akin to relishing green olives, black toast, and Brussels sprouts as one's main diet, hence, "Sail Away," becomes the breather track for the casual listener, a contemporary jazz smoothie that is child's play for master improvisers to build solo intensity from simple diatonic phrases to intense double time chromatic passages, the quartet doesn't disappoint.
Thelonius Monk's "Pannonica" features a smooth Weller solo on upright bass, after impeccable solos by Arbelaez and Shattil, exhibiting their atonal Monk chops and beyond. Always nice to hear a studio-recorded bass solo, safe from any imminent danger of a live audience talking over it.The quartet, plus Hall, take it home with a hard bop version of Cole Porter's "What Is This Thing Called Love," capped by Willie Jones III's drum solo before the final head, after a series of burning solos by all, and a dazzling unaccompanied sax and trombone duel.
Arbelaez has it all going for him, chops, phrasing, tone, musicianship; you'll hear his name again, and the others, as these "young lions," are emerging as veterans on mainstream jazz stages locally and nationally.