San Diego Folk Heritage is proud to present two musical events this month at San Dieguito United Methodist Church in Encinitas, CA. On Saturday, November 14th, the nonprofit organization will welcome world-class touring musicians Alasdair Fraser and Natalie Haas.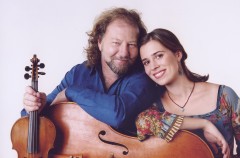 Fraser's dynamic fiddling, engaging stage presence, and deep understanding of Scotland's music have created a constant and international demand for his solo appearances and concerts with a variety of ensembles. He has been a major force behind the resurgence of traditional Scottish fiddling in his homeland and the U.S., inspiring legions of listeners and learners through his recordings, annual fiddle camps, and concerts. He has represented Scotland internationally through performances sponsored by the British Council, and has been awarded touring support by the California Arts Council, with the ranking of "highest priority for inclusion on the roster; considered 'model' in stature." Fraser has been featured on over 100 television and radio shows in the UK, and on several nationally-broadcast programs in the US, including CBS Sunday Morning, NPR Morning Edition, A Prairie Home Companion, and The Thistle & Shamrock. On The Kennedy Center Honors (CBS TV) Fraser played a special solo tribute to honoree Sean Connery, a fellow Scot, in a segment that included Catherine Zeta-Jones. Alasdair has made guest appearances with groups as diverse as Los Angeles Master Chorale, The Waterboys and The Chieftains, and as featured soloist along with Itzhak Perlman at New York's Lincoln Center. His film credits include solo performances on the soundtracks of several major films, including The Last of the Mohicans and Titanic.
Haas is one of the most sought after cellists playing traditional music today. In addition to her musical partnership with Fraser, Haas has also toured with Mark O'Connor as a member of his Appalachia Waltz Trio. As a studio musician, Haas has been a guest artist on over 50 albums, including those of Cape Breton fiddler Natalie MacMaster, Irish greats Solas and Liz Carroll, and Americana icon Dirk Powell. A graduate of the Juilliard School, where she studied with cellist Fred Sherry, Haas discovered the cello at age nine. In addition to having extensive classical music training, she is accomplished in a broad array of fiddle genres. Her music journey found purpose when she fell in love with Celtic music at the Valley of the Moon Scottish Fiddling School at age 11. Inspired and encouraged by director Fraser, she began to investigate the cello's potential for rhythmic accompaniment to fiddle tunes, and to this day, the two continue to resurrect and reinvent the cello's historic role in Scottish music. Haas's skills as an educator make her one of the most in demand teachers at fiddle camps across the globe. She also teaches privately and in a workshop setting, and has held an associate professorship at the Berklee College of Music in Boston. Haas now makes her home in Montreal, where she is an active member of the traditional music scene. Info/Tix Available Here.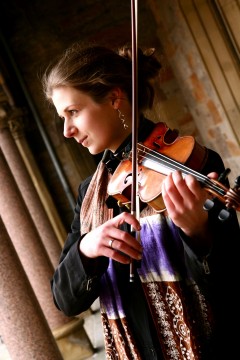 The following Saturday, November 21st, multi style violinist and champion fiddler Mari Black will take the stage. Black is rapidly building a reputation as one of the most dynamic young artists of her generation. Her energetic playing, engaging stage presence, and commitment to bringing people together through music have made her a favorite with audiences across the country and around the world. Equally at home in a wide variety of musical traditions, Mari is the 2015/2013 U.S. National Scottish Fiddle Champion, 2014 Glenfiddich Scottish Fiddle Champion, 2014/2012 Canadian Maritime Fiddle Champion, 2011 Canadian Novelty Fiddle Champion, 1st Prize Winner at the 2010 American Protégé International String Competition, and 2-time laureate at the American String Teachers' Association Alternative Styles Awards. On stage, she creates shows that draw on elements from many different styles including jazz, tango, folk, Western classical, as well as Celtic, American, and Canadian fiddling. California-based independent multi-instrumentalist and singer/songwriter Ian McCartor will open the show. Info/Tix Available Here.
San Diego Folk Heritage is an all-volunteer 501(c)(3) non-profit organization dedicated to preserving and promoting the folk arts in Southern California. For more information about these and other events, please visit www.sdfolkheritage.org.