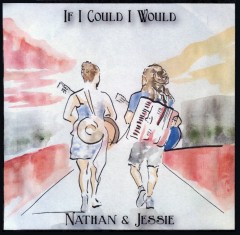 Temecula is home to Nathan and Jessie, who play a hybrid of folk and swing jazz with a gypsy twist; the key is that their two guitars are both National steel resonators. They add accordion and frequently supplement the sound with fiddle, and the result is often a trip back to the hallowed halls of Django and Parisian boulevards (with vocals); as they have shown by taking their music to Europe and playing all over the West Coast. Nathan (Rivera) and Jessie (Andrea Smith) write the material, but the band also features Karl Kummerle's fiddle and piano and Trevor Mulvey's double bass on their latest album, If I Could I Would. It's a very generous 16-track set of originals that gives them chances to show their ability to take their unique sonic blend in several directions. Recorded live, the disc sounds great, with an intimate feel.
Rivera and Smith both sing, and they are tight on the harmonies. "EZ2BNearU" opens, with some slash-and-burn swing fiddle from Kummerle driving matters. In case the Euro/Gypsy vibes aren't clear, the second tune is "Les Yeux Langoureux," with Smith laying down some French lyrics to a perky swing rhythm and sharp accordion, when the fiddle drops in, it is à la Grappelli. "The Land of Milk and Honey" is one of the highlights, a gypsy swing burner that positively flies by, with simple lyrics and instrumental interplay from smoky European clubs 80 years ago.
The songwriters seem to be able to nail catchy hooks, "At Home Anywhere" has the catchy melody lines that sink in, as Rivera sings of "Looking at the stars and maybe it is Mars/ As my human ship sets sail." The band downshifts for something slow and folk-inspired with "I Wanna Live Slow," as delicate fingerpicked guitars set the tone and Smith sings of wanting to "sit with you and talk for hours." It's a good change of pace, and the following track, "She," is another one from outside the box that works. Rivera sings an unusual, interesting folk song with 3/4 time accordion riffs. The big buildup includes toy piano plinks in a way that makes the song sound like a cascading merry-go-round, telling the story of a girl starting a mysterious journey. It takes musical risks that pay off, a clear highlight.
"Homeward Bound," with Smith in the vocal slot and nice harmony choruses, is another tune that will be still hanging around in the listener's ear after the disc is finished, probably the catchiest and closest song to a straight pop song here. The jazz combo blend is back for "The Hesitation Waltz" as the guitars and accordion are laid back, Kummerle plays his best solos, and more filigree is added by Rivera on both guitar and accordion, as Smith sings of a "new way to love." The title track closes the album, with Nathan James on slide resonator, the two singers in a call-and-response of the simple love song lyrics, then three resonator steels at once with harp over the top-a sonic treat.
Nathan and Jessie's If I Could I Would is a sure bet for acoustic roots fans, music that is both different and enjoyable.