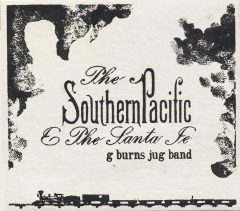 It's not often that you hear a modern-day revival jug band that has a sound you can only hear on a 1920s or '30s 78 rpm record but these guys have a sound that would do that Golden Era proud. With a mix of juggy blues and old-time ragtime jazz and tunes ranging from the very popular to the very obscure they often cross lines taking traditional old-timey stuff and giving it a jug band approach. Super fine fiddle by Batya MacAdam-Somer with lead vocals and guitar and banjo by Clinton Davis. Rhythm is provided by Anders Larsson on washboard and Johnathan Piper on the tuba and jug. Nice classic blues vocals by Meghann Welsh, who also plays accordion and tenor banjo, adding to the mix.
The CD starts off with an up tempo of the traditional "John Henry" with fiddle and tenor banjo carrying the load and Clinton Davis doing the singing. Next up is the Memphis Jug Band standard "On the Road," written by MJB leader Will Shade. The G Burns do a mid-tempo version with a Davis vocal and what sounds like a banjo-mandolin leading the way. A classic blues sung by Meghann Welsh titled "Jug Band Blues" also comes from the Memphis Jug Band. Meghann has a voice that fits with the best of those who sang in the classic style (Sippie Wallace, Ida Cox, Rosie Mae Moore, etc.); also some nice tenor banjo on this one. Next up is another MJB tune, "The Fourth Street Mess Around." Meghann Welsh does lead vocal on this one also.
"If the River Was Whiskey" is the title used for the old "Hesitation Blues" by Charlie Poole and the North Carolina Ramblers. Clinton Davis gives a kind of old-timey vocal with the band providing a jazz-ragtime instrumentation. "Kenesaw Mountain Rag," an old fiddle tune done originally by Andrew Jenkins, follows with the whole band getting mountainish hoedown style with MacAdam-Somer's fiddle leading the way. A fairly traditional version of Charlie Poole's "Milwaukee Blues" follows with Davis on vocal and the five-string and tenor banjos playing duet style. Meghann gives out next with one of Gertrude "Ma" Rainey's fine tunes, "Prove It on Me." Some nice fiddle and excellent rhythm on this one. G Burns titles this next one "Crazy Rag." It's a version of the Ragtime classic "Dillpickles." A real jumper, this is one that was originally used by Cakewalk Dancers. You are going to want to jump around on this one. More mandolin on "Banjo Blues" an old number recorded by Bessie Smith and the final tune is another Memphis Jug Band tune, "KC Moan." A fine version and a good finish to the CD.
These guys play a fair amount in the San Diego area and are starting to get a name around the West Coast. They put on a fine show, using an uncommon collection of instruments to give a real authentic traditional sound. It's nice to see that they have put out this fine CD, which should be in any collection of jug band blues and old-timey music. gburnsjugband.com