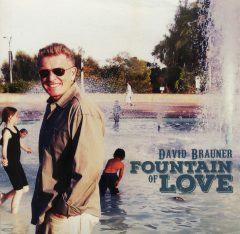 Fountain of Love is David Brauner's latest album of contemporary Christian songs. The San Diego singer/songwriter has been prolific in the genre, with four full-length CDs since 2012, including last year's Spokes on a Wheel. His approach is consistent: he has a strong band of local roots musicians on hand in the studio; writes straightforward, accessible folk-rock; and delivers it in a sincere, gravelly voice.
The new disc features a dozen tracks, and the backing cats include Sven-Erik Seaholm (multiple instruments and production), Peter Bolland (guitars), Wolfgang Grasekamp (keys), Billy Ray (drums), and others. As on earlier efforts, Brauner's long suit is putting a pleasant melody and a positive, New Testament message together in his songs. Some draw on gospel sources, others country, others folk. He frequently sings about self-examination and taking steps to make for a better life, and never lets his mission to praise Jesus get in the way of making a song connect on a visceral level; the feet tap, alleluia.
"Hallowed Ground" lays down a steady keyboard and drum beat, with a message about making the most of our blessings. Like some of the other tracks, it gets rocking and Bolland adds some lead guitar flash that seems part of the celebration. The title tune is softer and is likely a song for a congregation, about a fountain that "never runs dry." Brauner steps into the secular world for a lesson in the highlight "Immigrant's Dream." A first-person account of an immigrant leaving home and crossing the desert to dangerous uncertainty, it is ripped from today's headlines and, unlike many of them, reflects the human side of the issue. "In an immigrant's dream you see/ We are where we belong/ Gathered with our family/ Lord, someplace safe and warm."
"Wilderness" is the closest thing to a misfire here as Brauner is nearly overwhelmed in a heavily produced rocker with layers upon layers of overdriven guitars. Much better is "Be a Candle," which is a gospel roof-raiser, starting innocuously with keys and backing singers, gradually building to a triumph in the final verse, with a step up in key that gives the female backing singers in the chorus a chance to add some great moments. It's the best song on the album and will find a home in the listener's memory. "Devil Wind" seems secular but stands out, telling an important story about Santa Ana winds and the destruction we face in this area from wildfires. The minor mode and haunting vibe punctuated are by a sharp Bolland solo; "Tonight our fate will be decided/ By which way the devil wind blows." Brauner takes "What I'm Living For" into reggae territory, with a chunky semi-ska beat and organ hook. It works well, and the lesson this time is about taking whatever comes with a positive outlook because of kinship with the Lord.
Fountain of Love shows that David Brauner seems to keep coming up with memorable Christian music, songs that deliver their spiritual payload with a catchy rock and gospel beats.