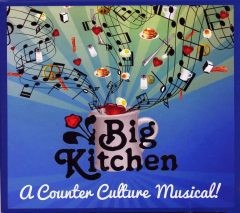 For 35 years Judy Forman has been the proprietor of the Big Kitchen, a culinary and cultural institution in South Park. Besides serving up pancakes and hash browns, Forman has championed women's rights, gay rights, and basic equal enfranchisement for all (See the accompanying profile Someone's In the (Big) Kitchen with Judy in this issue).
Forman, her cafe, and all the community work that she has done are now being celebrated on stage and in song with Big Kitchen: A Counter Cultural Musical!, with the music of the production, now out on CD. The collection of 21 songs from the show is entertaining and well worth a listen or two.
From their first effort of Joseph and the Amazing Technicolor Dreamcoat in 1968 Andrew Lloyd Webber and Tim Rice introduced the paradigm that musical narratives – "rock operas" and certain stage musicals – would draw on popular genres, pleasing their audiences with both familiarity and variety. Robert Schleeter, who composed all the music for Big Kitchen, follows this formula with much success. There is rock and reggae, some country, some funk, and some soul. There are also the production numbers, such as the opening "Can I Take Your Order" that shout out Broadway! Broadway! Broadway!
Schleeter aptly supplies almost all the guitar and bass work on these tunes. He also enlists some really great musical talent. Too many to list here, but I will say that I was glad to see drummer Duncan Moore credited on several of the tunes. What really sold me on this disk were the vocal performances. Noteworthy is Mitchell Asa's singing on "If I," a reflective song about AIDS. I know I'm probably leaving out some folks, but other great vocals are provided by Chase Baldocchi, Eboni Muse, and Fundi. Even Schleeter sings, turning in a fine performance on "Rollin' Out." Recorded in San Diego, Los Angeles, and Marin County, the engineering and production for this disk are tops.
This disk is perhaps at its best with the women's liberation/sexual liberation anthem "We Was Humpin'," which may as well have been performed by Kool and the Gang. The song has a great groove and has all the right soul sounds. The one song that really grew on me was "Pink Flamingos." The island beat had me dancing, and the image of a free spirit creating a flock of huge pink flamingoes seems to sum up a great deal of the joy and life that surrounds the Big Kitchen.
On the cover of the CD pancakes and peace symbols, bacon, big hearts, and music all flow into a big coffee cup. That is what Big Kitchen has always been about. The great joy and nachas created in the kitchen of Forman's cafe has enlivened the causes she has championed. At the Big Kitchen it's hard to separate the petitions from the pancakes. After all, don't you want a good plate of bacon and eggs before you go out and support women's rights or march for gay pride?
Big Kitchen 35th Anniversary Celebration w/ Sue Palmer and her Motel Swing Orchestra, plus cast members from the musical, will take place on Saturday, November 14 at 3003 Grape St. in South Park, 4pm. $10 suggested donation; CDs will be available for purchase.