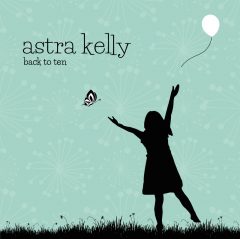 Upon the release of her seventh independent CD, Back to Ten, Astra Kelly has come full circle from her days in Chicago when she recorded her debut album in 1996, Stones, Bones, and Boxes, to this new 11-track disc. Both albums centered around the theme,"just a girl and her guitar," bolstered by her musical friends in the Windy City for her first effort, and now in America's Finest City, where she's gathered together an eclectic lineup of top shelf musical artists.
Each of the ten guest artists were invited to add their own style and flair to Kelly's acoustic guitar and vocal tracks, all written by Kelly with some co-writes with Carissa Schroeder, Caryn Stringer, Cathryn Beeks, Shawn Iverson, and Josie LaValle, all recorded in the cozy confines of Rarefied Studios by engineer and co-producer, Josh Mallit. The project has already received a nomination for Best Local Recording in the upcoming 2015 San Diego Music Awards.
Kelly's return to her acoustic roots, following a string of full-band rock-oriented recordings, brings to the forefront her propensity for writing lyrics with substance and depth of life's struggles and victories, while conveying some light-hearted and thought-provoking narratives throughout. The opening track, "Rain," and "Never Look Back" are text book examples of how effective simple guitar drone patterns, combined with catchy lyrics, can mesmerize the listener, with the latter track accompanied by a melancholy muted trumpet, a la Miles Davis, played by Gilbert Castellanos' protegé Matt Davies. Kelly's other two solo tracks, "Ship of Fools" and "Fun in the Summer Sun," exhibit Kelly's pop flavored side, with nifty violin accompaniment by Marta Z. on the latter track.
Gayle Skidmore joins the festivities, adding her banjo, piano, and voice on the cheery tune "Light of Day," followed by "Touch 'n' Go." an upbeat rocker, highlighted by sweet vocal harmonies from Heather Janiga and gypsy-flavored guitar licks from Johnny Janiga, both of Podunk Nowhere fame. The haunting minor-key ballad "Lullaby Lady" features the multi-talented Jeff Berkley on bass, percussion, guitar, banjo, and vocals.
Guitar wiz Simeon Flick comes aboard on the bluesy track "Drive," pulling out some steamy signature blues licks to go with his soulful vocal harmonies. One of San Diego's finest voices, Cathryn Beeks, harmonizes wonderfully with Kelly on the power chord-laced rocker, "One True Love." Trent Hancock and Carissa Schroeder join Kelly in three-part harmony on the edgy tune "Carried Away," while "Last Mistake" could be a hit country single with Schroeder and Kelly in a vocal duet that would make The Judds smile.
Most albums, in which the featured artist shares the spotlight with fellow artists, are usually winning combinations for the variety and shear anticipation of the collaborative magic that often occurs. Back to Ten is no exception….