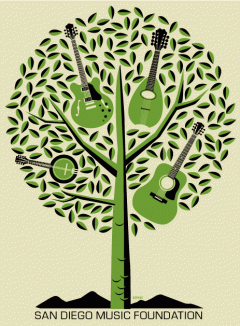 There are plenty of wonderful events on San Diego's annual calendar, but nothing brings the community together quite like the San Diego Music Awards. Held this year on Monday, October 5, the festivities will once again take place at Humphrey's Concerts by the Bay.
Proceeds from the event go to support the San Diego Music Foundation's Guitars and Banjos for schools. Since the programs start the San Diego Music Foundation and Taylor Guitars have placed 2,978 guitars in 85 schools from San Onofre to San Ysidro, with Deering Banjos now also part of the program.
"It's a great opportunity to celebrate some of San Diego's finest artists, while also helping along future generations of musicians," said SDMA producer, Kevin Hellman. "It's wonderful to raise money for a good cause, but it's also a heck of a good party." Winners are selected by the public in the artists categories and the San Diego Music Academy for albums. After two and a half decades, this is Hellman's last year running the show, so you can expect the party for what is the SDMA's 25th Anniversary to be just a little extra special starting with the performances. On hand will be artists from throughout the event's history, from the beginnings to the modern day, including saxophone legend and Rolling Stones sideman Karl Denson; reggae hitmakers Big Mountain; acoustic troubadour Gregory Page and his Accompanists; indie rockers Louis XIV; the B-Side Players, the Americana quartet of Berkley, Hart, Selis, Twang; singer songwriter Cody Lovaas; and Lifetime Achievement Honoree, guitarist Peter Sprague.
With 27 categories ranging from Best jazz to best video, and an audience consisting of musical peers, DJs, producers, and so on, the night's a great way for artists to make connections, or check out performers they may not have seen or heard before.
Such may be the case with newcomer, singer songwriter Cody Lovaas, nominated as Best New Artist this year. "I didn't expect it as I was actually on live TV with Kevin Hellman when they told me," Lovaas said. "I have spent so much time expanding my material and writing so much I haven't had much time to put out new music… yet. I feel so much support from our music community here and I try to support other artists as much as I can as well. Anytime you are recognized by your peers and there are so many amazing musicians in San Diego… it feels great. I have so much support from so many people and I am so grateful for that," he remarked.
Celtic fiddler Patric Petrie notes the awards are especially notable for those playing outside the world of rock and Americana."It's incredible to be singled out for consideration just knowing how many hard-working, full-time musicians are living and working in San Diego. Speaking as one of many, it's an enormous validation for non-mainstream music and performers. I mean honestly, an Irish fiddle player?" Petrie has been nominated many times ("I'm the Susan Lucci of World Music," she quips), but notes the musician interaction is as important as taking a trophy home.
"I try to take in as much music as possible, and there's always something to be amazed by from watching and listening to other players, other traditions," Petrie continued. "Is there much camaraderie in the music community? I have always been impressed by the local music community's open door policy. My favorite things are the collaborations that happen from chance meetings. Such as I was introduced to Sierra West, last year's Best Singer-Songwriter and now we're going to be working on co-writing some music for a project. And maybe doing a holiday concert with fantastic keyboardist Marie Haddad! Meanwhile (Steve Miller Band) guitarist Greg Douglass (from XX) and Chris Leyva (Falling Doves) have both asked me if I'd be interested in recording with them. A lot can happen from those chance meetings."
While some established performers can sometimes be a bit jaded about the awards, it's still a thrill to be nominated, especially when it comes to the new acts. "When we first heard about the nomination, we were driving back down from playing our first show in San Francisco," said drummer Carlos Mendez of the Bassics, nominated this year in two categories: Best New Artist and Best Alternative Band. "We all were legitimately amazed at the news, we couldn't believe it, and when we read further down to find that we got two nominations, we freaked and started cheering in the car, we even brought out a bottle of tequila," he said. "It makes you feel appreciated, like all the time and soul you put into your craft getting recognized, especially by an entire community, it's really humbling. Also it helps you understand how valuable of an artist you can be, because there's always those low points, and that's why it's nice to hear otherwise sometimes."