"Depth of quality, performance and passion make them a cross­-generational, cross­genre charmer." ­ POPMATTERS.COM
On Friday, September 18, 2015 at 7:30pm, San Diego Folk Heritage will welcome string band The Crooked Jades to its stage. The all ages event will take place at Templar's Hall in Old Poway Park (14134 Midland Rd, Poway, CA 92064). Admission is $15 for members and $18 standard. Students with school I.D. receive the member price, and youth ages 12 and under are free. Tickets are available at the door or online.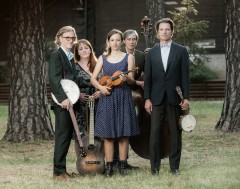 The Crooked Jades, called "the finest band to come out of the string­band resurgence" by The Boston Herald, are celebrating their 20th anniversary with a North and West Coast tour. Their updated lineup will feature newest member Emily Mann on fiddle as well as highly sought-after guest bass player Walter Spencer. Says band leader/founder Jeff Kazor: "The band will be fearlessly attempting a 20­-year retrospective, unearthing The Crooked Jades back catalogue from their proto­-grass beginnings-all the way back to the year 1995!"
About the Band: For the last 20 years The Crooked Jades have traveled countless miles across 4 continents, 10 countries, and as many festivals to bring you 8 critically acclaimed albums including Worlds On Fire (chosen by Sean Penn for the soundtrack of Oscar­-nominated film Into The Wild) and Seven Sisters: A Kentucky Portrait – the soundtrack to the award­-winning PBS documentary of the same name. Known for their rare and obscure repertoire, inspired arrangements and eclectic, often vintage instrumentation, The Crooked Jades began with Kazor's vision to revive the dark and hypnotic sounds of pre-­radio music. With this old ­time foundation, the band has created a unique sound by exploring the roots of Americana and interweaving the diverse musical influences of Europe and Africa. Filtering these old­ world sounds with universal and ancient themes through a post­9/11 lens, they seek to make sense of the future. A collective of West and East Coast pickers with equal parts attitude and respect, always led by Kazor, the band performs with a thrilling energy that has audiences on their feet dancing and critics comparing them to everyone from The New Lost City Ramblers and The Pogues to Gillian Welch, Nick Cave and Tom Waits.
The Crooked Jades are committed to exploring new frontiers, most recently via collaboration with the New York modern dance choreographer Kate Weare and Company. Their latest release Bright Land premiered to sold­ out audiences at New York's Joyce Theater and later at San Francisco's ODC Theater featuring the Kate Weare Company dancers accompanied by members of the band. This unprecedented collaboration of modern dance paired with old time music dramatized the cyclical nature of human experience with piercing, powerful choreography and fiery, soulful live music. See video.
San Diego Folk Heritage is an all­volunteer 501(c)(3) non­profit organization dedicated to preserving and promoting the folk arts in Southern California. For more information about this concert, please visit http://sdfolkheritage.org/events/the­crooked­jades/.