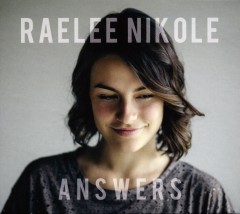 Not many pop singers break into the business and win accolades while still in their teen years, but Raelee Nikole has done just that. She started writing her own songs, cut an EP, and was gigging well before she broke through at the Del Mar Fair in 2014, when she won the singer/songwriter competition at age 19. A year later, she is making her full-length CD debut with Answers. She wrote all of the tunes on the ten-tune disc, which features her vocals, acoustic guitar, and piano. Jackson Price is on bass and electric guitar and Kimo Shim is on percussion; the disc was recorded and mastered by Masen Larsen, and it presents Nikole's songs in comfortable, lightweight sonic envelopes.
Nikole writes songs that are pop with a dash of hip hop phrasing here and there, with a twist of Nora Jones added. Her voice is smallish but fits the songs quite well; in the few spots where she has to compete with an amped-up instruments, she often adds crisp harmonies. "Dreamin'" gets things rolling with a strong start as she sings about how she is free during her other life during sleep, with nice acoustic guitar and keyboard framing. A pattern appears in the song, as she sings relaxed verses and double-timed phrasing on choruses with rat-a-tat-tat lyrics. This blend works here and on "Up to the Stars," which follows and has an almost identical beat.
"Highway" comes in on a cruising-speed rhythm with beautiful backing harmonies, and has a flow that earlier tunes lack, a highlight. Nikole sings about wanting to drive away in a fast car and the song seems to be just right for it. She is strictly down to business with "Down Low," which rides minor chords and a punchy beat while she lectures a wandering love interest about indiscretions: "You might think you're cool but I'm in control/ Yeah, she may be pretty but I've got it all/ So why you tryin' to keep it down low?" She may be only 20, but the message is clear, don't get on her bad side.
Trying for something different, "Truth" is a slow ballad, the first two minutes just Nikole and guitar, then adding Jamie Shadowlight's violin; it rates an A for effort while sounding a bit thin. "All Along" has a bluesy beat and structure, and good use of what must be a Hammond organ and some nice scale climbing by Nikole, but the meter seems too slow and it drags. The last song is perhaps the best of the album, "Out Loud, Unapologetically." Again the smooth harmonies heard on "Highway" lift the tune, as well as a steady rock beat. This song has a catchy guitar hook and wisely is fully realized by an outro that works the guitar and piano groove as it fades. It is a clear highlight, and a song about making a statement that makes one itself.
Answers gives Ralee Nikole an opportunity to show her talent beyond her years, and earn her new fans.