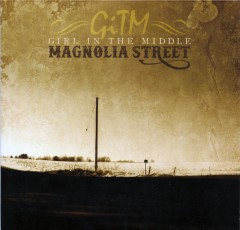 Girl in the Middle plays a blend of classic rock with "an Americana twist." A guitar-driven power quartet centered on the vocals of Carol Rider, their sound in some tunes throws back a generation to templates established by the Pretenders and Blondie: chiming riffs, catchy melodies, lots of energy and attitude. Their latest is Magnolia Street, an eight-track EP offering a good look at GITM.
Besides Rider on guitar and vocals, Tim Edwards contributes guitar and vocals, Gregg Henning on drums and percussion, and Daniel Musseron bass and vocals. The opener is "Girl in the Middle," a full-throttle mission statement that pounds fuzz guitar riffs from both sides against drum flourishes as Rider lets go, "She's a girl in the middle and she wants it both ways." Ratcheting the sound down a notch with a male lead vocal, "Shadow of Souls" actually clicks well; it's a catchy mid-tempo rocker that shows GITM's range outside the power format.
The strongest track is "I Almost Love You," a radio-ready burner that makes good use of the two guitarists trading hooks while Rider's urgent vocal brings to mind Chrissie Hynde of the Pretenders. Not everything works: on "Argentine Lady" an effort at a pop ballad falls short. It is more than made up for by "Bye Bye," the rousing closer, which jumps out of the speakers like the best balls-to-the-walls Blondie rockers of yesteryear.