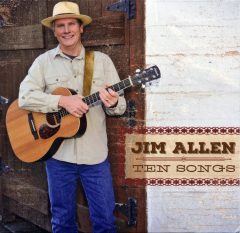 Jim Allen has been singing country music locally for years in several bands, including Lightning Train, in Allen & Watts with guitarist Alex Watts, and as a solo performer. His debut CD as a solo artist is Ten Songs, and takes an approach that Allen terms "modern day troubadour in the classic country folk tradition." More simply, it collects well-known folk and country standards, giving them a reverent framing with Allen's almost classic voice.
The disc features Allen singing, and playing acoustic guitar, bass, harp, and snare drum, Watts on guitar, with appearances by Dave Berzansky on pedal steel and Allen's daughter Rachel on trumpet. The recording by Sam Boukas captures the stars of the show: Allen's vocal cords, with smooth and organic harmonies, while the wooden instruments enhance the vibe. Allen wrote one tune, and the others are by icons like Tom Waits, Jesse Winchester, and Steve Goodman.
"Rose of San Joaquin" opens, setting the mood perfectly, a mid-tempo ballad with tasty harp and delicate acoustic guitar fills dominated by Allen's commanding vocal. Soft but powerful harmonies hit all of the right spots, as he sings Tom Russell and Ian Tyson's tale about the dark-haired Magdalene, who he let get away. Another good choice is Goodman's "City of New Orleans," a natural for this type of treatment, and Allen doesn't disappoint as Berzansky helps give the sound more depth and the guitars manage to convey a chugging train feel. The well-known cowboy waltz "Night Rider's Lament" also clicks with Allen's vocal about the fading life of the range workers singing, "They've never seen the northern lights, they've never seen a hawk on the wing/ They've never seen the spring hit the great divide, And never heard old camp cookie sing." And it works just a little bit better with the hint of Marty Robbins that Allen carries in his delivery and harmonies.
Jack Tempchin's "Pickup Truck" is more of the same as Allen has almost made a concept album here about hitting the open road, whether traveling by foot, train, boat, or broken-down four-wheeler; "Shiver Me Timbers" takes the theme out to the sea on another waltz. "Where the clouds are like headlines on a new front page sky/ My tears are salt water and the moon's full and high," he relates, as he bids farewell to his family, ready to sail away, traveling alone. "Why You've Been Gone So Long" is a straight-up honky-tonk shuffle and a highlight; Berzansky again shines as this one gets the blood flowing and foot tapping, despite its acoustic instrumentation. The disc wraps with a tune that is another 3/4 time cowboy ballad-sort of an Allen specialty, "Spanish Is the Loving Tongue." It seems the cowboy is coming full circle from his previous adventures with Magdalene, after hitting the rails, off to sea, and now looking back.
For listeners who cherish the classic folk and country ballads and singers, Jim Allen's Ten Songs will be a great listen and a fascinating musical journey.