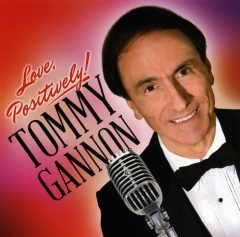 Local San Diego musician Tommy Gannon has just release Love. Positively!, a collection of ten love songs, jazz standards all of them, as well as an original love song of his own. This new CD is a fine addition to San Diego's compendium of quality jazz recordings. I believe that anyone who listens to Love. Positively! will be impressed by Gannon's talents and come away as a new fan, as I did.
Simply put, Gannon is a great singer. With the panache, phrasing, and sense of time of Sinatra, the timbre and liveliness of Mel Tormé, the intimacy of Chet Baker, he sings in an easy, casual style. From "You'd Be So Nice to Come Home To," which opens the disk, to his original composition, "Don't Look Now," Gannon is at home and comfortable with all these tunes. He knows them inside out. He gives them a light treatment, all of them done in moderate tempos. So it's a great choice for the disk player when that special someone comes over.
Not to be overlooked, Gannon is also a top-notch jazz pianist, and his playing here is lively and filled with some great musical ideas. Accompanying Gannon on this disk are Kirk Hoffman on miscellaneous percussion instruments and guitarist Mark Augustin, who also plays harmonica on "That Sunday, That Summer."
This is a home-produced disk. The bass, piano, and other instruments are all electronic. I've heard other homemade disks, and, for me, the electronic instruments usually mar the disk, no matter how good the performance may be. But in this case, Augustine, who engineered and mastered the disk, did an excellent job of making the instruments sound natural, and there is a good ambiance to the overall sound of the recording.
It's unfortunate that "That Sunday, That Summer" was penned in 1963, a time after which the binding on the Great American Songbook had taken place. This marvelous tune, a top chart hit for Nat King Cole, is generally overlooked when folks compile a show or make a recording. I was pleased to hear Gannon here with his version of the tune.
Gannon closes with one of his own tunes, "Don't Look Now." The first time I listened to the disk I have to admit that hearing this tune after listening to ten classics was a bit of a letdown for me; after all, he's following songwriters like Ray Noble and Herb Brown. He's following Cole Porter, for goodness sake! But listening to the disk again and again I was able to put away my prejudices and admit that Gannon's song is a solid jazz vocal tune. I started to like it.
For anyone who loves the old standards, anyone who loves to hear a great singer sing oh, so well, or for anyone who wants to share a glass of wine with a special someone by the fire, I highly recommend Love. Positively!