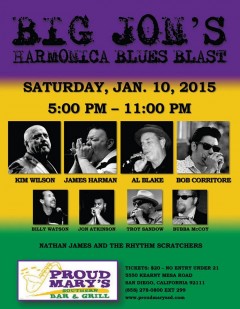 Big Jon Atkinson is a bad man. Not in the demented, hockey mask, and chainsaw kind of way.  No, Mr. Atkinson is bad in a seriously mean old, low-down and nasty, bottle-neck slide guitar blues type of way. Oh sure, he appears innocent enough, with his harp rack and fistful of capos. But when he sits down to play, you'd better keep your hands up and your elbows in because he's taking you with him when he goes. Don't let the lumberjack shirt and cuffed jeans fool you; he'll come right at your head with a few quick slide riffs and then break you down with sustained, well-placed body blows. This will be your only warning. So, put in your mouthpiece and make a few plans on your way to the canvas; you're about to take a dive, courtesy of Big Jon Atkinson.
Atkinson says he's packed a lot of living into a very short span of time but honestly believes it's been music that has "kept me alive and pushing forward." Jon recalls, "From the time I was born I was always heavy into music no matter what it was. My whole family at some point in their lives played music, from banjo to saxophone and drums. My father was into blues and I got my first guitar at age 14. I quickly dove deep into the instrument and loved it."
Jon remembers exactly when the blues called his name. "The first time the music really got me, I was listening to Freddie King and B.B. one day," he says. "I stumbled into a record store and pick out three CDs from the blues pile. I was lucky enough to get Lightnin' Hopkins, Howlin' Wolf, the Sun Years, and Little Walter's Hate to See You Go.
I remember playing Little Walter first and thinking, 'Wow, this is weird music!'" You can probably hear Jon laughing when he adds, "There was so much going on in the songs that I think it scared me a little bit. Then I put in the Wolf stuff and heard Willie Johnson. That was it for me. Once I heard that tone and heard how dramatic the music was, I was hooked." Jon says he immediately "went home and for months and months learned all three of those CDs."
Time well spent.
In a few short years Atkinson has become a very well-rounded and versatile bluesman. Others have taken notice. "People always ask me how or why I play multiple instruments and I simply say that I do it because I needed to," Jon says. "I started playing harmonica two years ago because at the time nobody in Knoxville could play harp the way I heard it in my head or on the records. It was much easier for me to teach a guitarist how to play the way I wanted than the harmonica. So I learned it and I'm still very much learning it. It's the same for the drums. I would just fiddle with them here and there, but out of nowhere I just started doing them on gigs. I listen to this music so much every single day that it is just so natural for someone who does this [plays music] to have a feel and a head start on all the instruments. When I committed to play harp, I could already hum you every Little Walter and Big Walter solo on any tune, so it was just putting it to the actual instrument."
Turns out not everything that happens in Vegas stays in Vegas. Jon fell in with a couple of seasoned musicians that had a profound impact on both his playing and his music. One of those bandmates was a man named Junior Brantley. "Well, I met Junior when I was about 18 or so," Jon remembers. "I was going down all the wrong paths and making all the wrong choices as a young man but Junior helped me a lot with singing and the traditional blues. I used to play with him all the time and he would always give me great advice. He helped me in any way he could. Al Ek did the same for me. They would bust my ass every night and they really were a huge part in how I sound today. I never used to sing or open my mouth on stage and Junior would tell me that I could do it and that I had what it took. Al Ek used to always tell me, too, that I wouldn't get any gigs just playing guitar, you had to sing and front a band. He was right. Both of those guys were a God-send to me. We used to play at the Sand Dollar every week and those were some of my learning grounds. It molded my mind into the way it is now. I am very lucky to have met those guys and I owe them a lot."
You mentioned the early Howlin' Wolf stuff that featured Willie Johnson. What were your thoughts about the other long-time Wolf sideman, guitarist Hubert Sumlin? "As far as Willie and Hubert, they were huge to me." Atkinson admits. "I was always really into Wolf but nobody sang or did any of his songs. That's why I started singing in some fashion because then I could do these songs. But the first time I heard Willie it blew my mind… so raw and so real. There's nothing like it, besides Pat Hare. [Author's note: similarities and comparisons in guitarists Willie Johnson, Pat Hare, and Hubert Sumlin, other than the obvious Wolf connection probably arise from the fact that at one point Pat Hare was a guitarist with James Cotton. Having grown up with Cotton, one of Hubert's very first playing jobs would be touring with Cotton and Hare through Arkansas and Mississippi. In one of a hundred small roadhouse venues during that period, the Wolf came out to see the Cotton band and when Hubert eventually left Cotton, it would be to play guitar for Howlin' Wolf.] Hubert was huge, too. He taught me to turn your amp up and play soft, real soft until you want it to be heard then you pop through. He was a master at dynamic playing and he had such a wonderful and unique style."
Talk a little about putting together your band, Big Jon and the Nationals.
"Well the band has just been what I call my group where ever I end up," says Jon. "I mean it is a simple name and quite a simple band. We play everything from J.B. Hutto to Robert Nighthawk to Junior Parker and Muddy Waters. Also I have plenty of retro era-sounding originals, too, that we play. The band is great and there is always something new happening, either recording or gigs or whatever."
Although still relatively new to Southern California via Tennessee, Big Jon has definitely made some new friends… new and hugely talented friends. "Well the first experience I had was playing with Mark Mumea and the Silver Kings." It brings up good memories for Jon: "That was a great chapter for me as it got me thinking the old way again, as if I had gotten off track at some point. Everyone needs a little push sometimes. Then, Nathan James and I started talking on Facebook and he invited me to sit in with him. I went down and met the guys and played with him and Marty Dodson and Troy Sandow, who now are great friends." And as if that wasn't enough, "That day I got to play with James Harman.
Then Karl (Cabbage) from Red Lotus (Red Lotus Review) and I did some gigs together when I moved from San Pedro to San Diego. All these guys were so good to me and still are to this day. They have helped me more than anyone in the world. I am a blessed man to have run into these cats. Nathan has really done a lot for me, from my CD to gigs. He is a great man."
Since you mentioned it, let's talk a little about your CD and working with Nathan James and recording at Sacred Cat Studio's. "The record Boogie with You Baby was a pretty incredible thing." Jon says, "We basically decided to record it in three back-to-back days at Nathan's in Oceanside. Raw as you could get it. Half the songs were just ideas from Nathan and we did them on the spot, never having played them before. And the originals on the record were written on the spot, also. It was a blast and we recorded on tape and did the whole thing the right way. Just like the old days. The result is an intense, fat-sounding blues record. There needs to be more records made like this nowadays. Fred Kaplan played some great piano on the record and Troy Sandow played great bass and played harmonica on a number of the songs. Marty Dodson played great drums with lots of feeling and emotion. And Nathan played incredible guitar on the whole thing. I really could not have made a bad record if I tried."
I've seen you play a number of times in the last year, but one show in Carlsbad recently just blew me away. It was you, Nathan, Marty Dodson, and the incredible Kim Wilson. How did that relationship come to be? "I got involved with Kim at a venue that Cadillac Zack had me play on.  I was backing up young harp master Jacob Huffman, who now plays with the 44s. Halfway through the show I noticed Kim and he was watching me play. I didn't even know he was on the gig. Anyway, before Kim got up to play he asked me if I wanted to stay on stage with him. I, of course, said yes! After the gig we talked for a bit and became fast friends. Now we are good friends and we play, record, and trade amplifiers all the time. He is a great guy and the man has given me more advice and opportunities than anyone. Not to mention I get to steal some of his harp chops every time I see him." [laughing]
Beside his proclivity for kleptomania (I warned you he was bad) Big Jon's talents are ever expanding and they appear now to include concert and event promotion. But he emphasizes, "As far as promoting goes, I would say I am just trying to get the music out there. San Diego has very, very few shows where five or ten of the best blues players get into the same room and play. I am trying to put together more big events down here for the blues. On January 10th I am putting on a huge show at Proud Mary's, this great Southern-style joint that is in the old Ramada Inn. I am going to try and slowly build this place for big events. The January show will have Kim Wilson, James Harman, Al Blake, Billy Watson, Troy Sandow, Bubba McCoy, Bob Corritore and myself. It is going to be a great show."
Not that you need anything more to do… what does the future have in store for Big Jon Atkinson? "Next for me is just to keep doing what I'm doing. I have another record coming out next year that is going to be huge. I am taking my time with it and really getting what I want out of the sound. Kim and I hope to open a cool music shop, hopefully, and I want to branch out and get to play with some more people in the area that I have yet to play with."
Mark your calendars and get your tickets early for Big Jon's Harmonica Blues Blast and jump start your 2015. It's set for Saturday, January 10th at Proud Mary's in San Diego and features some of the nation's most incredible harp players as well as San Diego's own Nathan James and the Rhythm Scratchers. It is guaranteed to be an event you won't soon forget.