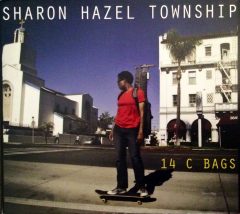 Sharon Hazel Township went diving headlong into every aspect of producing her recent full-length album 14 C Bags. There are many big ideas, musically and lyrically – culturally relevant ideas. These include themes that capture and relate the relaxed urgency of life in SoCal and the contrast between the gift of music and the burdens of being a musician. The mood and tone of these eight songs forms a cohesive flow, although I would have liked to hear more of the songs achieve the expressive balance of "In a Daydream" and "Cinque."
I favor Township's effort to communicate her ideas through real performances on real instruments. This album has welcome contrast. Sharon has preserved her original creative ideas and allowed them to be upfront in these recordings, rather than being disguised by special effects. It isn't uncommon, these days, to find musicians exaggerating every element of their creative product. Too often, recordings rely on powerful editing tools and special effects to artificially enhance music's natural expressiveness. Ironically, this modern temptation often yields a flatter, more two-dimensional result. 14 C Bags is unpolished, refreshing, and full of personality.
Self-producing an album represents significant challenges – among these is the challenge of arranging instrumentation in a way that is appropriate to each track. Naturally, as a guitarist, Township primarily uses a variety of guitar timbres to create different moods in the songs as they flow from one to the next. There's the plucky nylon string instrumental "Cinque," the hollow-body jangle in "Good News" and "Different Speed" as well as the familiar strummed acoustic on "My Side" and "Outside" and the dirtier, distorted sound of "Don't Care."
To my ear, the other instruments frequently challenge (rather than support) Township's philosophical and expressive songs. I found myself lamenting the lack of vocal harmonies and wanting more diverse rhythms. Arrangements reach their zenith, in my opinion, on "In a Daydream" and "Cinque." The prior finds an elegant balance in the proportions between the lyrical mood and the musical mood. The latter (the CD's last track) has a bright personality that is complex and articulate – a nice note to end on.
14 C Bags is a curious title and the songs, arrangements, and instrumentation from the songs within are also curious. Forgoing ultra-modern, exaggerated production quality and focusing on a more honest and direct album, Sharon Hazel Township allows the quality of her songs to bear being judged, honestly and openly. It is the road less traveled and also the most artistically rewarding.