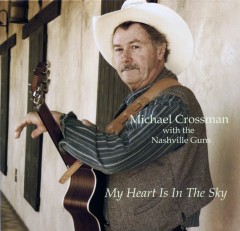 Michael Crossman has released five CDs since 2007, though until his very recent website kickoff, the alt-country singer/songwriter didn't have much of a digital gig history or other footprint. His last disc, Desert Diamonds, was favorably reviewed on these pages in 2013, a batch of generic country-pop featuring his vocals and a crack Nashville band, (the Nashville Guns). Crossman is back with My Heart Is in the Sky, with Diamonds producer Tom Manche again turning knobs and the same crew of aces playing behind him.
Crossman does not have a powerful voice, but the music here stays within his range and surrounds him with a built-up, glossy envelope. The 12 originals include keyboard ballads, road shuffles, and introspective love songs, and he includes the lyrics to all on his new site. What the tunes lack in hooks or clever lyrical heft is made up by Crossman's earnest persona and the pro polish of the arrangements.
The title tune opens with him doing some self-examination on the way to meet his lover at the airport, running late; there isn't much to the melody, but it is beautifully played and recorded. "Free Man" has a different vibe with some slow, minor chord guitar figures trading with harp creating a heavy, atmospheric frame for the story of a blue collar truck driver heading into town to blow off steam. Crossman scores with an effective ballad on "Every Time You Go Away," which has some lovely pedal steel by Jim Hoke and backing vocals that beef up the choruses.
"Toll on Your Soul" goes for a peppy New Orleans-swing jazz feel featuring clarinet (Hoke again; he impresses), and finds Crossman using metaphors that don't work about a failed relationship with analogies like "Don't fool around/ With an IED/ Don't fool around with TNT… You'll be back on the street/ Singing the blues." Huh? Crossman's limitations as a lyricist crop up elsewhere; "Going to Colorado" is about wanting a Rocky Mountain high, full of rhymes like "I'm going where the grass is greener/ And it ain't no misdemeanor." Despite such stumbles, Crossman manages a standout track with "This Moment in Time," a slow, heavily arranged love song that takes full advantage of nice flute playing (Hoke), string effects, and his best vocal singing his best lyrics.
Crossman has spent considerable time in Lone Pine and the Eastern Sierras according to his website, and "Desert Rose" is a bit of autobiography, nicely executed with piano and pedal steel accents, it clicks. After two filler tracks, the disc wraps with another ballad – these are the strongest tracks throughout – "She Comes and She Goes." Though not quite in the same league as "This Moment," it has the same DNA and captures his fascination with his lover, "She comes and she goes/ Like the talk on the street/ Like the rain beneath our feet."
Michael Crossman's My Heart Is in the Sky has some worthy country-pop moments, especially in his ballads.