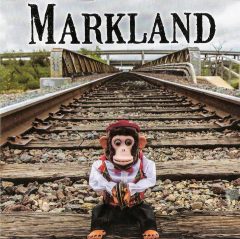 Markland is both a band and a family. The Ocean Beach natives are brothers Aaron (guitar/vocals), Justin (bass), and dad Steve (Tunker) on harp, with drummer Randy Jones, and as far as the old song about "He ain't heavy, he's my brother" – not these guys. The approach for this alternative blues-rock outfit is decidedly heavy. Aaron writes the material on their debut CD, ten songs that range from gospel-inspired, almost acoustic tracks to full-throated, overdriven boogie – with an emphasis on the latter.
The production, by Michael Head and the band, emphasizes Aaron's distorted guitar at the expense of his vocals on several tracks, including the opener, "Never the Same." This song is packed with power and raw energy but would have been better if the bass and harp could have cut through the volume-on-eleven power chords. There is still plenty of juice behind "Judgment Day," with acoustic guitar licks and harmonies forming a catchy counterpoint over the top of a nifty power-chord hook, sounding like a clock: "Hear our footsteps, hear us storming your way/ You're going to pay." It may be spelled wrong, but this highlight has the vibe of the better grunge ballads from 20 years ago by bands like Soundgarden.
Tunker's harp ushers in "Solitary Road," which settles into a brooding power-blues groove punched up by Jones' kick drum, while Aaron sermonizes, "The least will be the first someday." On "Lights and Sirens" there is a psychedelic feel, as the tune is built on an acid rock guitar riff, with harp filling the empty spaces. The band gets down to boogie business on "Revolver," which rocks hard and throttles in and out of a pounding 12-bar structure for Tunker to lay in some harp statements. The band stays pretty much in full-tilt mode for the next tune, "Life is Beautiful," which is basically a boogie with wah-wah guitar and lyrics about how great it is to live in Ocean Beach.
The band's strength is its energy, the power behind its rockers and boogie numbers. This is also their chief limitation; the original material here is mostly all one flavor, with the hooks, cadence, and melodies from one song to the next being similar. "Secret Side" is as close as they come to stepping out of the box, a song that has acoustic guitar in the mix and doesn't go for bombast, it stands out in the thicket of boogies and grinding rockers because it drives its chorus and message home without overkill. The next song, "Wishing Well," is back to the norm for the disc with a hook that resembles "Secret" but is delivered balls-to-the-wall boogie style. On its own terms it works, and features one of the few spots on the disc that Aaron lays down some sharp lead guitar lines, but by this track the listener may be getting musical déjà vu from earlier tunes like "Life is Beautiful."
Markland's debut rocks, with several interesting songs for fans of alternative blues-rock.