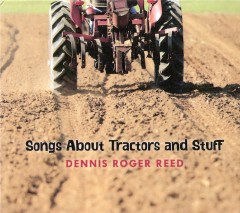 As a member of several bands and a solo performer, Orange County's Dennis Roger Reed has played blues, folk, bluegrass, and country-rock music. He writes songs, sings, plays guitars, mandolin, and bass and is a regular at folk and bluegrass festivals up and down the left coast. His new album is Songs About Tractors and Stuff, a generous, 17-track mix of vocals and instrumentals, covers and originals; the first nine tracks and the last seven recorded with different backing bands. All of it is produced by Reed and sounds consistent: mostly acoustic tunes sung in his strong tenor voice with a loose, almost jam vibe. And the music isn't really about tractors at all.
The first of nine covers is "Folsom Prison Blues," the treasured country relic, and Reed isn't trying to mimic Johnny Cash: it has finger-picked guitar overlaid with both dobro and slide guitar licks, harp, and a brooding minor chord feel. It gets points for an inventive approach to the song everyone knows by heart, though Reed hams up the vocal a bit too much. "Crazy Old Arms" is a catchy original that works because it plays to Reed's and the band's strengths – harmonies on the choruses, lovely fiddle playing, and a distinct hook making this country ballad score. The level isn't sustained, however, as "Words" follows, a puzzling cover choice. This '60s Bee Gees song is given a bluegrass treatment similar to "Folsom," but the poppy, sing-song style of the tune is a poor match to the rootsy mandolin/acoustic guitar arrangement. Reed is on firmer ground with his originals, like "Take a Whuff" and "Stone in My Shoe," both of which are short, pleasant, and quirky folk/pop pieces, especially the latter, which has a clever hook and lyrics about how his relationship with a unpleasant lover, which "is like walking with a stone in my shoe."
The best cover is "Gasoline Alley," a great song that is hard to go wrong with, and Reed nails it with a rollicking version that includes layers of acoustic axes, mandolins, slide, and fiddle – while retaining enough of Rod Stewart/Ron Wood original's bones that it is a highlight. "I was almost happy just the other night," Reed sings in "I Remembered That I'm Lonesome," as he spots a parted lover while out to party; his alt-country relationship song probably more memorable for its lyrics than a drop-dead hook. With "Mr Spaceman" he scores with another cover, this time Roger McGuinn's funny Byrds single – somehow fitting perfectly with the other material here; it is two minutes long (the 17 tracks clock in at 44 minutes); has clever, quirky lyrics; and is played expertly. One of Reed's best contributions is "After All This Time," a mid-tempo tune with accordion fills, and harmonica that give it a zydeco flavor, to wrap the disc.
Dennis Roger Reed's Songs About Tractors and Stuff offers acoustic music fans a wide variety of ear-catching arrangements of both originals and covers.