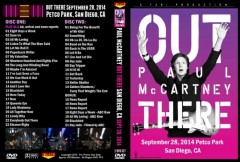 Paul McCartney's show on September 28 at Petco Park was just short of incredible. For starters it had better sound than his previous Southern California visit on August 10 at Dodger Stadium.  Also, audible from the street, there was a 14-song rehearsal on September 27  as well as a 14-song sound check the day of, both mostly made up of songs he didn't include during the show, notably a lot of early rock classics such as a Buddy Holly cover ("It's So Easy") and a folk favorite ("The Midnight Special"). Meanwhile his exit from Petco Park, waving from the front of a minibus to the cheering masses on 7th Avenue downtown, was classic Beatlemania, and a great end to a fun night.
There are already unofficial DVDs of the concert on the market, complete with bonus footage taken from local news reports, ads for the show, and footage of his arrival at Petco Park.
Early arrivals at the show itself heard a set from DJ Chris Holmes, playing McCartney-related tracks, followed by a scrolling artwork and photo collage projected on the large screens that framed the front and sides of the stage, set to cover versions of McCartney and Beatles tunes.
The nearly three-hour show kicked off at 8:30 pm with "Eight Days a Week"  (#1 /1964), part of a well-paced 31-song set, plus two three-song encores. According to Billboards Boxscore, McCartney played to a sold out house of 42,352, taking in $4,968,567. That's, of course, not counting merch sales, which were brisk, featuring everything from lunch boxes and water bottles to t-shirts and key chains. It was a Beatlecentric show to be sure, but it wasn't all sixties nostalgia. Three songs from McCartney's most recent album, NEW (#3 / 2013) were performed, as well as a sprinkling of Wings and solo tunes. The set was the same as the one played at Dodger Stadium with the exception of "Get Back" (#1 / 1969) replacing "I Saw Her Standing There" in the first encore.
McCartney was in top form with a strong voice, switching from bass to electric or acoustic guitar to keyboard as the song dictated. The crowd seemed a bit quiet at times, but a close look at the happy faces made me realize that this audience wasn't subdued, it was actually listening and hanging on every note and word, with a lot more audience interaction towards the second half of the show. He mentioned the city several times and threw in the obligatory sports team reference, with a "Go Chargers," remark. He later mentioned that his wife, Nancy Shevell, had worked in San Diego.
The set concluded with 1-2-3 punch of "Let It Be" (#1 / 1970), "Live and Let Die" (#2 / 1973)— complete with fireworks plus laser display — and "Hey Jude " (#1 / 1968).
The night's highlight came at the start of the second encore. With some people thinking the show was over and already at the exits after the first encore, McCartney walked on stage with an acoustic guitar and performed "Yesterday"  (#1 / 1965) with pretty much the entire stadium singing along. Following up that orchestrated sentimental favorite with proto metal rocker "Helter Skelter" (1968) really highlighted the range of McCartney's music. The show closed with the last bit of the medley from the album Abbey Road (#1 / 1969): "Golden Slumbers," "Carry That Weight," and "The End."
McCartney left the stage with another burst of fireworks and the comment "We'll see you next time,"
Here's what he played while in San Diego:
Petco Park – Saturday, September 27Â  / Rehearsal :
1. Honey Hush 2. Blue Suede Shoes  3. Honey Don't 4. Sing The Changes 5. Save Us 6. C Moon  7. Celebration 8. It's So Easy 9. Every Night  10. We Can Work It Out 11. Another Day 12. Dance Tonight 13. For the Benefit of Mr. Kite! 14. Birthday
Petco Park – Saturday, September 28Â  / Soundcheck :
1. Matchbox 2. Honey Don't 3. Flaming Pie  4. Highway 5. Let 'Em In 6. C Moon  7. It's So Easy 8. San Francisco Bay Blues 9. Every Night 10. Ram On 11. We Can Work It Out  12. Midnight Special  13. Bluebird  14. Lady Madonna
Petco Park – Saturday, September 28:
1. Eight Days a Week 2. Save Us 3. All My Loving 4. Listen to What the Man Said 5.Let Me Roll It/Foxey Lady 6.Paperback Writer 7. My Valentine 8. Nineteen Hundred and Eighty Five 9. The Long and Winding Road 10. Maybe I'm Amazed 11. I've Just Seen a Face 12. We Can Work It Out 13. Another Day 14. And I Love Her 15. Blackbird 16. Here Today 17. NEW 18. Queenie Eye 19. Lady Madonna 20. All Together Now 21. Lovely Rita 22. Everybody Out There 23. Eleanor Rigby 24. Being for the Benefit of Mr. Kite 25. Something 26. Ob-La-Di, Ob-La-Da 27. Band on the Run 28. Back in the U.S.S.R  29. Let It Be 30. Live and Let Die 31. Hey Jude   Encore 1: 32. Day Tripper 33. Hi Hi Hi 34. Get Back Encore 2: 35. Yesterday 36. Helter Skelter 37. Golden Slumbers 38.Carry That Weight 39. The End.
Reviews
The Donnis Trio — Chroma  – (self released)
Striking singer-songwriter material from Nate Donnis, fleshed out by the members of the trio and a cast of contributors that includes violinist Melissa Barrison and saxophonist JP Balmat. Heavily folk influenced, but the album dances around a bit. The music also has a soulful element and a modern edge, with front man and namesake Nate Donnis's wonderful voice somewhere between Sly Stewart and Tom Waits. The albums best song is the string laden title track, which reminds me a lot of prime era Neil Diamond, complete with a quirky, minor key melody and eloquent arrangement that adds in elements slowly to the mix, such as the piano flourishes at :58, the whole thing pushed forward by an insistent chiming acoustic guitar. A well balanced mix and Barrison's superb playing make it a solid listen.
Produced by Phil Woodring www.thedonnistrio.com
Honeychain — Futura  (self released)
Absolutely great. The only problem with Honeychain's  EP, Futura, is that at five songs, it's way too short. Though Honeychain is now a gigging four piece combo (featuring respected writer and drummer John Borack) this disc is a one woman show, with Hillary Burton singing, playing drums , guitar, piano and bass. It's classic punk edged power pop, a bit like early Blondie meets Superdrag, buzzsaw guitar rock 'n' roll with a bit of Spector influence. Futura shows Burton to really know her way around a song hook, kicking off strong with the obvious single, "The All-About-Me Girl."  This one's an earworm, a great chorus with the melodic tag at 1:03 icing on a superb cake, all wrapped up in just under three minutes. There isn't a bad song here. Track two, "Easy To Forget," is just about as good as the opener,  it's title making a memorable sing-along, before the adrenaline ramps up a notch on garage rocker, "Lucky One." The EP closes with "Than You," a terrific moody tune that goes from indie rock, to reverb drenched Spector-esque grandeur. Bottom line, this is a really fun EP, not just a worthy listen, but something you'll want to have in your collection. You'll play it loud and often.
Recorded at Lincoln Lounge in Venice Beach, California by steve Refling. Mixed by Michael Eisenstein. Mastered by Hans DeKline at sound Bites Dog. www.honeychainmusic.com
Shelly Waters — Drive — (self released)
Ten singer-songwriter tracks mixing up country, rock and blues. The key to Waters sound in that trio is country, with a brace of tracks that is more sounds of Bakersfield than today's radio. Not to say this is retro, far from it. Tracks like "Dance in the Rain" do come across like a Patsy Cline outtake with authentic sound and mix. However, "Revolve" is an all together more modern sounding track — still country, but atmospheric, with Clapton-esque lead work from Joe Taylor. The clear single here is "Promises" which melds an R&B beat and pop hooks for a great chorus — it's not hard to visualize a crowd singing along to this one. "One and Only" is a more straight forward bluesy ballad, think Etta James, while "State Line" adds a bit of Hammond driven funk to the proceedings.  The singer-songwriter field is overcrowded at the moment, but Waters songs are well worth searching out if you're a fan of those first sentence genres or just good music in general.
Produced by Joe Taylor www.shellywaters.net