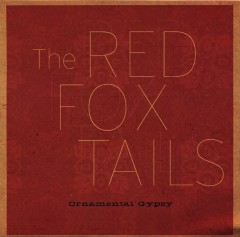 For the last several years the Red Fox Tails have been giving us good-time music that is both danceable and interesting to listen to. The trio of guitar, bass, and drums has been drawing on music from almost every corner of the world, from folk music of the Peruvian Andes to 1970s African pop. They are also fully conversant in the language of surf music and early soul.
But if you were to really pin down their musical heritage, it would be the exotica pop of the 1950s. The band, albeit without the fake bird calls, does more than tip their hats to Martin Denny and Yma Sumac. There is something of a cinematic nature to their music, too. Besides having a compositional structure, the tunes all carry a narrative quality, as though many of them were plucked from B-movie soundtracks from decades past. From tune to tune it's easy to visualize scenes from old-time spy thrillers, spaghetti westerns, or technicolor costume pageants that told the stories of Ali Baba or Omar Khayyam. Although their roots are in fifties kitsch, there is nothing ironic or tongue-in-cheek about the Tails' music. There is no hint of smirkiness in any of their tunes.
With their new release, Ornamental Gypsy, the Red Fox Tails have added saxophonist Jean-Paul "JP" Balmat, turning the band into a quartet. His playing adds a whole new dimension to this band. The CD's 13 instrumentals are inspired, intriguing and worthy of a listen or two by any music lover. I listened to this disk again and again, sinking deeper under its spell each time. It was as though it had me making travel plans to places I've never heard of.
I like bass. For me, I want to hear the bass with lots of timbre, full and rich. On this recording, however, it sounds like Jay Reilly turned the treble knob on his bass's amp down to zero then buried the amp under a pile of mattresses and blankets. Oddly enough, I love the muffled sound. That enigmatic rumbling just adds to the mysterious sound of this recording.
On the other hand, Felipe Benavides receives a more up-front presence with his guitar. The instrument is crunchy and full, as if the guitar went through one of those old tube amps that were made back in the thirties and forties. At times the added reverb and tremolo make the guitar sound as big as the Louisiana Purchase. With the splashy drums of Ron Bocian, the band has a loose feel, one that might make you think of New Orleans. The groove just seems to happen.
Balmat has always been a soulful and inventive player. His solos are what jazz performers strive for: being totally in the moment. He takes the Red Fox Tails to another level, and his roots in jazz and soul add another dimension to this very creative band.