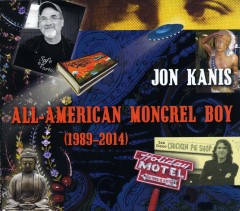 If he isn't the definition of a 21st-century musical Renaissance Man, Jon Kanis comes close: a musical archivist (and DJ with a library of 150,000 songs), he's been involved in film and TV productions, and is an author and music journalist (and a regular Troubadour contributor). As composer, producer, and performer of his own music, he has appeared on multiple releases, as well as four solo EPs and CDs, including his upcoming Fundamentalism Is the Only Way. Kanis' latest, All-American Mongrel Boy (1989-2014), offers a compilation of 18 songs from a 25-year span, a musical highlight reel of alternative indie pop that crackles with imaginative, diverse sounds reflecting his versatile talent.
Several soundtrack cuts and an unreleased song are included; Kanis wrote the music (with help on a few), sings the lead vocals and plays plenty of bass and acoustic guitar. The studio personnel are numerous, with Christopher Hoffee and Mike Keneally prominent on the more recent tracks. The songs cover a wide spectrum of genres, some reflecting Kanis' ability to write clever tongue-in-cheek send-ups of classic rock icons.
"Where Is Joe Strummer When You Need Him?" melds a semi-reggae beat to some great lyrics about the screwed-up state of the world, as Kanis rants about "Sometimes it's hell/ And sometimes it's a paradise"; too bad the Clash's fiery leader died young. Originally from the DC area, a homesick Kanis brags in 1989's rockabilly track "Arlington" about how nice it was to have four seasons instead of one. A power pop tune with the Shambles, "It Is and It Isn't," from '92, continues the strong tracks with bristling energy, followed by a great '91 song with a deep, dark bluesy vibe, "Walk Without Me."
Perhaps the catchiest tune here is "That," an ethereal ballad with cello flourishes, a great Kanis vocal, and a soaring arrangement with superb guitar solos by Keneally. "Dweller on the Threshold" is a recent track, but the arrangement of the piano power ballad is straight out of mid-'70s Elton John workbook – with lyrics about "yellow brick road," "empty sky" and other Johnisms. Neil Young gets the treatment in "The Past Is Not Made to Last," starting with chords typical of Young's ballads as Kanis sings about a renewed romance, working "long may you run," "expecting to fly," and "journey through the past" into the words.
Kanis steps outside the box for "Make It," an arresting highlight that goes to unexpected jazzy places with an unusual time signature and progression, again with a great arrangement and backing featuring Keneally. From the same 2004 sessions, "Real Gone" goes for psychedelia, as lyrics warn about the approach of 2012 and a mix of acid rock guitar licks and drone sound like late-'60s Frisco. Kanis is a great wordsmith throughout: on "Think It Over," he asks a betraying lover, "If I gave you Big Ben/ Would you still ask me for the time?"
For anyone who is a rock or pop fan, All-American Mongrel Boy 1989-2014 is a must-have. Jon Kanis' infectiously catchy pop provides something for just about every musical taste.