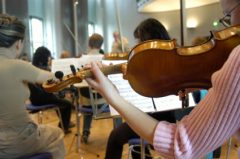 Music Business and Education Students Invited to Apply for NAMM's President's Innovation Award
Awardrecipients receive support to attend the NAMM Show and Generation NextCARLSBAD, Calif., (July 31, 2014) — The NAMM Foundation encourages students preparing for careers in the music products industry to apply for the NAMM President's Innovation Award. Awardees receive financial support to attend NAMM's annual music products trade show, January 22-25, 2015 in Anaheim, CA.The NAMM President's Innovation Award is open to students currently enrolled in music business and/or music education courses. Award recipients receive $600 to cover the expense of attending the NAMM Show. At the show, awardees participate in Generation Next programs, have countless networking opportunities with music industry leaders and explore the show.
"The President's Innovation Award connects our industry's future directly to those leading the industry today," said Joe Lamond, president and CEO of NAMM. "By investing in these student's bright futures right from the start, NAMM contributes to the entire music industry's continued strength."
Generation Next includes panel discussions, mentoring sessions, and career-ready learning experiences tailored for music majors, music faculty and music school leaders. Michael Mullens from University of Massachusetts, Lowell said that attending Generation Next at the NAMM Show, "is like nothing else in the industry. I am going to cherish the knowledge gained here for years to come."
Last year, The President's Innovation Award provided 56 graduate and undergraduate students with access to the NAMM Show and Generation Next. Applications for the 2015 NAMM President's Innovation Award are now being accepted online. Submission deadline is September 30, 2014. Awards will be announced November 1, 2014.
###
About The NAMM Foundation
The NAMM Foundation is a nonprofit organization with the mission of advancing active participation in music making across the lifespan by supporting scientific research, philanthropic giving and public service programs from the international music products industry. For more information about the NAMM Foundation, please visit www.nammfoundation.org and follow on Facebook, Twitter and YouTube.