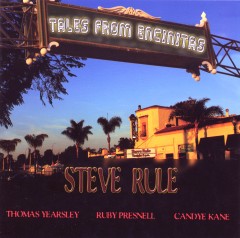 Steve Rule calls Encinitas home, and last year released a CD of blues covers and Hawai'ian music called A Koa Kind of Blues. That project had a loose jam feel and was recorded by Thomas Yearsley, with local blues musicians on hand. Rule has kept busy, as evidenced by Tales from Encinitas, the new full-length CD that features his singing and songwriting as well as contributions from Yearsley and several other prominent local blues musicians.
The album is a departure from Koa in that Rule is writing nearly all of the music and playing little or no 12-bar blues guitar; there are 13 tracks and he wrote 12 of them. Three instrumentals pad things out, but the material here varies from soft personal ballads to quirky shuffles to bluesy rock, as fewer than half the tracks have bass and drums. Rule rightly plays up the old school approaches of analog recording and artwork that contains all the lyrics, and his songwriting is good enough to hold it all together.
"Reboot" opens, a catchy blues-swing song blending vocals of Rule and Stefani Stevens, punched along by her keyboards and his good blues guitar fills; it is lightweight stuff but is pleasant and catchy. Yearsley's pulsing bass line is the background for plenty of conversation in "The Chosen One," a highlight with Rule and Ruby Presnell getting into some blues with sharp harp help from Lance Dieckmann, "Sometimes the juice ain't worth the squeeze." "Live the Dream" is the best track here, a jazzy number that Presnell absolutely nails, as nice guitar by Dave Gonzalez helps it float to a different level. Singing on six of the tracks here, Presnell is consistently strong throughout.
Rule plays acoustic guitar on the instrumentals "At the Bazaar" and "Encinitas Vibe," and these are innocuous filler; while his "Call It a Day" is an earnest attempt at a folk ballad, however his voice just doesn't have the range or power to pull it off. The late Steve White wrote "Never Been Good at Goodbye," and this gets a full-band blues treatment with Jim Hubbard on vocal and Billy Watson blowing harp. It hits the groove just right, as Rule's acoustic leads trade with Leo Dombecki's tasty organ licks.
"Oregon Man" finds Rule and Presnell working harmonies in a rocker about Rule's origins, "From the land of clouds and rain/ Don't care if things get wet." This one has a clever bridge that throws back to the sound of the Who's "Won't Get Fooled Again," and right into a brief Hendrix-style ascending lead riff for a nice taste of retro. Quieter, and definitely more poignant, is "Gladiator's Grace," with just Rule and Candye Kane in a touching, dignified prayer as she sings, "I'm a Gladiator fighting for survival/ I need your thumbs up to see tomorrow… I'll protect you with my Grace/ We'll walk in harmony as we leave this place." Amen.
Steve Rule's Tales From Encinitas is an interesting batch of roots music, with some surprising moments.