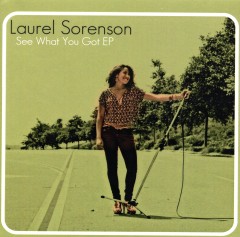 Encinitas is home to Laurel Sorenson, who sings and writes songs with a bluesy edge and some real rock energy. A trip to the web finds YouTube vids of the young singer flexing some vocal chops and handling some tunes, from an Amy Winehouse cover to Grace Slick's "Somebody to Love."
Sorenson's debut EP, See What You Got, features five originals that in spots show signs of promise of as a songwriter; the problem is that she's competing with the album's production in a losing battle. Sorenson and co-producer Kris Towne, for whatever reason, bury her voice in an avalanche of heavily amplified, over-arranged instruments for most of the first four songs.
The opener/title track starts with some promise, but when her choruses hit, her voice is phased, mixed down, and simply drowned completely out by loud guitars – it doesn't work and ruins an interesting track. Much the same for "Softest Place to Fall," which is a duel between Sorenson's heavily affected vocal, keys, and guitar for prominence, in a poor mix. "Send Me the Ocean" has a hook and slows the tempo, then has big, loud guitar riff bridges that again overpower her choruses. "All I've Ever Been" is the best track here, as recorded. "Call Me a liar/ 'Cause that's all I've ever been," she sings in a rolling rocker that goes for a groove instead of overwrought bombast.
See What You Got shows that Laurel Sorenson has some good musical ideas, as well as some of the production pitfalls sometimes involved in debut projects.