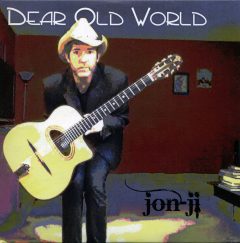 Jazz artist Jon Ji describes his music as "cowboy bebop and gypsy crawl," drawing from such influences as his idol Billie Holiday, swing revivalists the Squirrel Nut Zippers, and '70s mainstays Dan Hicks and the Hot Licks, interlaced by a guitar sound definitely based on Django Rheinhardt. New Old World is his new EP, a home-recorded sampler of six originals that feature his vocals and guitar playing on a big, loud Selmer gypsy D-hole acoustic (which suits his sound well).
Ji doesn't sing as well as he plays, but the vocals aren't a distraction and the songs have a certain retro-pop charm. Ji dresses up "Tumble Dry" with some harmonies and a sassy tongue-in-cheek vocal that calls to mind Hicks and makes it click with a short, sharp solo. In "Maybe," his songwriting scores in a pleasant pop number that might sound better with background singers – the demo-quality sonics here have him answering his own calls and responses, but it's still catchy. In "Seven Steps" Ji takes things up a notch by going full Django on his axe with a full '40s swing style song, and he wisely lets the guitar do most of the talking: he has a good feel for the gypsy master's technique and fret board instincts, and the song is a good springboard for it. His playing also stands out on "Always Fall," which has a bluesy, Holiday vibe as he fills the chord changes with slick scales.
Dear Old World offers listeners a satisfying glimpse into Jon Ji's interesting musical world.