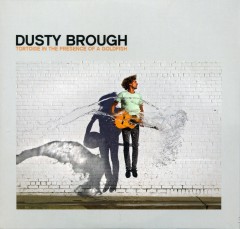 One of the most exhilarating performers to pick up and play the guitar in recent years is Dusty Brough. Gifted with deft technique and inspired by classical, flamenco, jazz, and Eastern European folk music, the young musician contends with a busy schedule. He is a member of the Hot Blood Orkestar, which plays music of or inspired by the odd-metered folk music of the Balkans. He also performs solo and as a duo with tabla player Miles Shrewsbery. Brough has just released his first solo CD, Tortoise in the Presence of a Goldfish, an outstanding initial effort by a musical artist. Throughout, the music and performances are intriguing and at times breathtaking.
Brough plays nylon-stringed guitars, classical and flamenco, as well as the electric version of these instruments. Besides flamenco and classical, I also hear a bit of an influence from the fusion world. For you old farts out there, just imagine Gentle Giant unplugged, only this time around possessing the ability to play their instruments really well and lacking their outlandish pretensions. Most of the compositions Brough performs are in odd meters such as 7/8, 11/4, 13/4, which adds to the interest and excitement of the disk.
Joining Brough on this recording are a number of talented young musicians, including outstanding drummers Julien Cantelm and Steve Haney. Tabla player Miles Shewsbery brings an exciting element to the composition "Hang Nine." Possibly the most rockish tune, "The Forest and the Giant Mechanical Saw," receives some of its rock 'n' roll vibe from Kevin Feeby's bass. Pianist Danny Green adds a Fender Rhoades-type keyboard to "Tango Feb," a composition that includes a number of short lines, some at lighting speed, and a sort of Beethovenesque short-short-short-long riff that intersperses the tune.
Opening the disk is "Box Life," a tune that practically bursts out of the speakers and is anything but inside the box. The tune is restive and driving and gives the listener a good idea of what else is to follow on the CD. "Le Sherpa" contains one of the most intriguing pairings of guitar stylings. Brough contrasts swift strumming against chord plucking that make the guitar sound something like a harp. The effect is quite mesmerizing.
As though it were composed to offer the listener a breather after the exhilarating first two numbers, "Shadow Puppets" is ethereal and dreamy and features choir-like vocals from Natasha Kozaily. At once orderly and sometimes sounding menacing, "The Forest and the Giant Mechanical Saw" seems to surmise the conflict when the human desires of efficiency, profit, and mastery of the environment come face to face with trees and open spaces, particularly when heavy machinery is involved.

Tortoise in the Presence of a Goldfish is filled with well thought-out compositions, all exceptionally executed by Brough and the other talented musicians he chose to work on this project. It was a new pleasure each time I had the disk in the player.