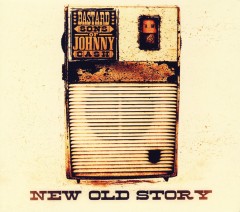 Back in 1995 San Diegan Mark Stuart formed the Bastard Sons of Johnny Cash, and with his songwriting and vocals the constant throughout five CDs and numerous personnel iterations, continues to make Bakersfield-style alt-country music that sounds more like Merle Haggard than Johnny C – a good thing in this age of the homogenized, over-slick rocked-up country product. Stuart's last outing with BSOJC was 2009's Bend in the Road, which changed things up by billing the band as Mark Stuart and the Bastard Sons, and by being recorded in Austin. Well, Stuart is back, with a new CD that returns to the old name and uses local musicians for, appropriately, New Old Story.
The album has ten Stuart originals given life by an ace crew that includes Mike Butler (producer/engineer, guitars), Dennis Caplinger (stringed instrument specialist), and Dave Berzansky (pedal steel). The clean recording keeps things simple, putting Stuart front and center, in the pocket, delivering his honky-tonk shuffles, swing road tunes, and ballads while giving the cats on hand a few measures to flash their chops without getting in the way, and giving the overall sound a smooth country vibe.
"Highway Bound" opens and establishes that Stuart knows the traditions of country music and pays them heed; it's about his lust for the freedom of going down back roads, and he delivers it in a winning, country-rock shuffle. "Well Worn Heart" stands out as the best ballad on the disc, as well as another nod to the established styles. It's about how often-burned, road-weary Stuart still has a few good miles left on him, with the right woman – and how he knows it probably won't work out. It's been decades since Buck Owens lamented "Close Up the Honky Tonks" because his girl was always down dancing in them. Now, Stuart sings about how today, there aren't any left in "No Honky Tonks," a disc highlight that bristles with energy, helped by sharp fiddle work from Caplinger. The level stays high as "Poor Man's Son" is a story song about moonshiners: "In a shotgun shack with his wife and kids/Makin' moonshine like his daddy did." Stuart puts a nice backwoods spin on this one.
Stuart and company get props for retaining both an old school approach and eclecticism. "Leave a Light On" is a lively swing tune with an easy groove, matching the style of the western swing music of the '50s. Next, Stuart adds just a hint of zydeco flavor to the swing of "Into the Blue," with some accordion touches and catchy hooks. Then, even further out of the box, "El Troubadour" rides in on flamenco-style guitar riffs, evoking Marty Robbins with a story of a broken down singer: "I can't remember who I used to be." The disc wraps with a strong waltz ballad, "Bounds of Your Heart."
The title says it all on the Bastard Sons of Johnny Cash's New Old Story. This is alt-country that retains the feel of what has come before, and succeeds because of it.