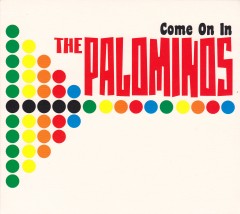 In a dusty corner of the old part of town is a café, where long necks and leather necks congregate, celebrating all that they've got to be thankful for: an honest day's work; a dear, sweet mother; and a God that made the honky-tonk angels. And over in the corner, dressed to the nines in Nudie-styled suits and five-gallon hats, is a quartet rocking the bandstand. In the sacred sawdust, where time stands still, are the Palominos, and these boys swing like nobody's business.
The Palominos' sound is timeless and it feels like they've been around forever (since 2006, actually). They've finally gotten around to releasing their debut EP. Come On In is a quick romp (seven songs, 21 minutes) across the tried-and-true territory that came to be known as the Bakersfield sound. Should you crave a fix of Buckaroo-styled music in the present day, this quartet is about as good as it gets beyond resurrecting ol' Buck Owens himself.
Come On In belies the fact that it's 2014, coming on like it's perpetually 1959, where fashions, attitudes, and adaptation have dropped into a permanent state of arrested development. It's an exercise in genre preservation; living historians who keep the past alive, and it's easy to chuckle at the cornball, homespun homilies-from-another-planet lyrics. It's amazing how so much rockabilly-type music can swing like crazy and still belie any African-American influence. But swing they do, with each one of these songs coming on like a lament, and if that isn't the blues then what is?
The premier pitfall to this particular type of pastiche is the inability to rise above the level of lyrical and musical clichés, with the material feeling pretty darn hackneyed. But if you can get past the re-hash, this band is amazing to dance to and their chemistry as players has that X factor that goes into "group mind" territory. The Zurek brothers write the tunes, with guitarist Thomas and bassist James locking in as tight as can be with drummer Craig Packham. Lead singer and guitarist Lance Hawkins is a smooth operator — sounding slick as a puddle of oil.
"Come On In" and "What's Her Name" tell simple stories that uncomplicated folks will no doubt relate to. Through repetition and exposition we're left wondering what is the phone number of that hot red head, who's here one minute and gone the next? That's three minutes of exposition, if you work the repetition part successfully, and boy, do these gentlemen know how to work a recurring phrase. By the third song "No You Don't," you start to wonder if all the songs have three-word titles. But then, "It Could Happen to You" disproves that theory, as does "Macon, Georgia," "Mr. Used to Be," and the disc's rollicking closer, "You Provide the Heartbreak (I'll Provide the Wine)."
If you've never caught the smooth, classic twang of the Palominos, you're missing a grand opportunity. They're a fine antidote to Jay Z. I'll see you on the dance floor.