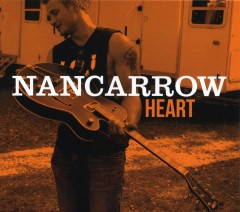 Fronted by 25-year old singer/songwriter Graham Nancarrow, the band that bears his name, Nancarrow, has raw energy and a classic sound that is unique yet familiar. Nancarrow plays good ol' honky tonk Country!
In their first year of performing, Nancarrow was nominated for Best Country/Americana Band at the San Diego Music Awards. Last year the band toured the West Coast (or I shall I say tore up the West Coast) and recently signed to Randm Records. They will soon embark on an Australian tour.
Their label debut EP, Heart has just been released.
The feel-good anthem "Party" kicks off the record. It is very reminiscent of early Beat Farmers, especially in the drumming of Ron Kermer. I love it!
The next tune is "Fun," and it, too, rocks! The bass, brilliantly played by Joe Weisiger, sounds like a powerful locomotive. "Fun" lives up to its name
When "I'm Gone" came on, I thought I was listening to Dwight Yoakam with a bit of Buck Owens mixed in. Russell Hayden's lap steel guitar fits the song perfectly.
"Second Last Resort" will make you think of George Strait. It's pure country and one of my favorites on the EP. Tommy Andrews, Russell Hayden, Joe Weisiger, and Ron Kerner are exceptional musicians. Tight. Skilled. The band is in the pocket.
The title song, "Heart," melts my heart. Graham Nancarrow's vocal and Joey Guevarra's keyboards are exceptional.
The final cut is "Smokey Tavern." Right away I pictured myself sitting in the title tavern with a beer in hand, looking for a dance partner to swing me around. The sadness and the heartbreak are palpable.
Buy this record! Get your dancing boots and go back to the days of real honky-tonk. Crank it up! These boys rock! I LOVE THIS RECORD!!!
The CD is dedicated to the late broadcasting legend and environmentalist, Loren Nancarrow, Graham's Dad. He is surely smiling with pride.