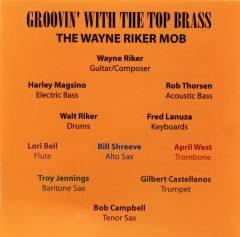 Though perhaps best known as a jazz player, Wayne Riker's guitar skills can dazzle in any genre. Indeed few artists in San Diego push their musical boundaries as much as Riker. It's a trait seen in each of his eight albums to date, including his latest disc, Groovin with the Brass. They all feature a mix of self-penned tunes and a theme of sorts, in this case it's right there in the title. And it is apparently Riker's mission in life to perform with every great musician to call San Diego home. Just check out the sterling cast of horn and woodwind players to be heard here: Gilbert Castellanos (trumpet), Troy Jennings (baritone sax), Bill Shreeve (alto sax), April West (trombone), Bob Campbell (tenor sax), and Lori Bell (flute). Meanwhile the "mob" is rounded out by Rob Thorsen (acoustic bass), Fred Lanuza (keyboards), Harley Magino (electric bassist), and Walt Riker (drums)
Riker's tunes are instrumental with the exception of spoken intros, and those featured names are no mere window dressing. While this is very much Riker's show, including writing all six songs here, he allows each band member to stretch out. This is evident from the first song "Street Struttin'." The funky, seventies soul-inspired track features Castellanos' trumpet and Riker's lead guitar alternating leads. Highlighted by Lanuza's Argent-styled Hammond organ runs, it's a sonic time warp that hits all the right marks.
Really though, this is a good listen start to finish, with a nice variety to the tunes. The best song here is likely "Funny Bone Stomp," a bluesy pop number led by West's terrific trombone playing and more of Lanuza's wonderful keyboards, in this case a sort of honky-tonk piano that recalls Tumbleweed Connection-era Elton. The biggest departure, sonically at least, is "Solana Del Mar," which spotlights Lori Bell's smooth-as-silk flute playing. It's the most modern jazz-sounding of the tracks, with Riker's tasteful fretwork alternately with Bell and Lanuza. In a way, this feels the most conversational among the lead instruments. Meanwhile, "Here's the Lowdown" is probably the closest to rock on the album or perhaps early Motown. It captures the right youthful spirit and Troy Jennings' baritone sax work really adds a nice sixties feel to the whole track. The closing track, a swing band classic in the making, "All Aboard Blues," was recorded live in studio, complete with an audience. Featuring solos from all the performers, complete with an in-song roll call courtesy of Riker, as might be expected at 8:42, it's the longest track here, but it's fun hearing the musicians trade licks.
Yes, jazz fans will enjoy this album and fans of any of the aforementioned musicians can rest assured that this is a worthy addition to their discographies, but anyone who appreciates instrumental tunes will also get a kick out of Groovin' with the Top Brass. I'm looking forward to whatever Riker has in store for us with album number nine.