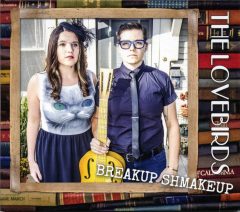 Veronica May and Lindsay White are the Lovebirds, and since 2010 they have grown a following among local folk/pop music fans with their harmony-laden, often quirky melodies. Their sound draws from influences that include jazz, blues-rock, and flavors in between, with many of the vocals shared by both in rich harmony, like many of the Indigo Girls' early tunes. They have released three full-length CDs together, following up last year's And a One, and a Two with their new one, Breakup Schmakeup.
Former romantic partners, the musical duo are still on the same musical wavelength on the new album, again enlisting Jeff Berkley to produce, record, and mix the ten originals. The veteran multi-instrumentalist and board whiz does an absolutely pristine job of capturing them, largely leaving a spare and intimate feel to the songs but offering an occasional dynamic and tasteful boost of bottom.
"Love Through Our Music" seems like a mission statement as it starts quiet and calm but builds, with a story about the two – no longer lovers but still singing harmonies – moving forward to "take up a different plan" and "make music forever," as the band joins in and finishes with soaring choruses and a powerful musical statement. The lyrics are on their website, which is a plus for "Boat Train," a clever tune about the metaphors that define a failed relationship. Achingly beautiful harmonies tell of the ship built on a railroad track and train built in the water, and missed opportunities – again, all brought home with a catchy melody and anchored by another build-up arrangement with Berkley's guitar setting the groove. The two do quirky well, and "Crimson Love" proves it, as White's tune about her emotions as a color wheel starts with a lively ukulele strum and picks up steam as she moves from shade to shade. Much quieter is "Be," a slow and dignified piano ballad that works the rich, velvety blend of May and White's vocals beautifully for a disc highlight.
The good songs keep coming: "Whiplash" is the closest thing to a blues-rocker on this album and another standout track. With Berkley crunching some seriously tasty power guitar chords and great licks, the singers deliver great lyrics: "And life flashed through your eyes, but you're alive still/ If the crash doesn't get you the whiplash will." The two change gears a bit for "Echo," a softer song with more winning harmonies. To the most catching guitar figures on the album, the two vocalists soar together creating a vibe that almost floats away, singing "The place you're missing most/ Is right here where you are." "Because of Love" pushes nostalgia buttons with its simple jazz guitar and key arrangements, which is no surprise given May and White's experience playing '40s music as part of the Forget Me Nots.
With Breakup Shmakeup the Lovebirds leave no doubt that their music continues to thrive, which is great news for San Diego roots music lovers.
The Lovebirds CD release will be held at Swedenborg Hall on Friday, May 2. Check the calendar for details, page 15. Available at www.thelovebirds.com/music.html