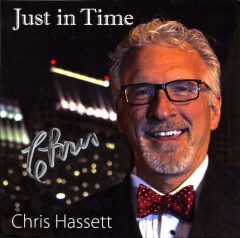 Chris Hassett has just released Just in Time, his third CD. If you like the old standards, or if you simply like to hear a great crooner in top form, then Just in Time certainly deserves a listen or two. And if you're not yet a fan of this talented singer, this package of 12 gems from the American Songbook should turn you into one.
In 2011 Hassett released December, a delightful collection of Christmas songs and carols, and in 2012 he released This I Promise You, a disk of tunes that he had penned himself. Apparent in both of these recordings was that Hassett is gifted with a strong and clear baritone and is one of the best male singers that San Diego has to offer. His easy manner is reminiscent of those great old crooners, guys like Dean Martin and Perry Como.
These two previous disks were recorded and produced on tight budgets and substituted synthesized and electronic instruments for the real thing. While they are both very good recordings, I felt that Hassett deserved to be heard with real drums and real pianos. Here, on Just in Time, Hassett brought in the real deal, the piano, the bass, and drums. He also did everything else right. Hassett booked a great studio, Peter Sprague's; and not only did he get a small ensemble to back him up, he also enlisted some of the best talent in town for this project. Gunnar Biggs is on bass, Duncan Moore is on drums, and Sprague adds his guitar to several tunes. On differing tracks we have the talents of pianists Barnaby Finch and Danny Green; Hassett's collaborator on his previous projects, Drew Massicot, joins him on a tune or two as well.
Hassett is capable of having great fun, and that is quite evident on the disks more up-tempo tunes, like "Beyond the Sea" and "Don't Get Around Much Anymore." I appreciated that Hassett included "That's All" in this collection. He expertly interprets the sweetness and innocence of this 1950s jazz standard that is often overlooked.
On his two previous CDs Hassett clearly nails at least one song, one in which the delivery and phrasing is beyond comparison. I didn't think he did that here on Just in Time, create one exceptional song that stood above the rest. I actually think that he nailed a lot of them. If anything, Hassett is a mature artist, capable of conveying a great deal of emotion with his phrasing and delivery. This suits him well to interpret just about any ballad. On Just in Time all the ballads shine. I was particularly pleased with the quiet bossa nova "The Gentle Rain" and Hassett's joyful interpretation of "The Nearness of You." On Charlie Chaplin's "Smile" Hassett avoids the mawkish sentimentality that this tune can easily devolve into and delivers a performance that brings out the song's quiet dignity and optimism.