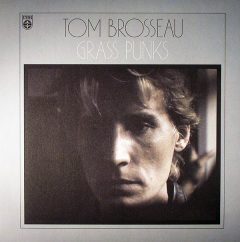 It's been an exceptionally nasty winter for our brothers and sisters out in the Heartland. On the positive side, this means more meditative walks in the snow or quality time in front of warm fireplace. The long Midwestern winters have allowed unique personalities to develop: there's the re-inventor (Robert Zimmerman of Hibbing, Minnesota! Meet Dylan Thomas…); the droll humorists (Garrison Keillor of Anoka, Minnesota; David Letterman of Indianapolis); and the earthy poet (Carl Sandburg of Galesburg, Illinois). Songwriter Tom Brosseau is quintessentially Midwestern, hailing from Grand Forks where he attended the University of North Dakota. He later migrated to Southern California, his penchant for observation still intact. Public transportation in Los Angeles is currently his favorite "learning tool," a habit he revealed in a recent press release. "I take the city bus, which is an experience that has plugged me back into humanity. The faces, languages, the dress – daily I am part of the mix of what is the real face of this town, and though learning the schedules has been challenging, and the temperament of some of my fellow commuters eye-opening, it feels good to be in the same boat as everyone else. People come to Los Angeles because like Frank Lloyd Wright said, it's where everything loose collects, and though I am nothing more than another pebble I am the number one observer of this place."
The major newspaper of the metropolis returned the favor, giving Brosseau a nice feature spread in the L.A. Times for the release of his seventh CD, Grass Punks. The album was recorded at the home of Sean Watkins (Nickel Creek), adjacent to the 101 freeway in Los Angeles. Brosseau's vocals still retain a boyish charm that one suspects will not change greatly two decades from now. Only until very recently (where he now sings very much like a guy in his 70s), Paul McCartney was able to successfully elude Father Time for years. Why not Tom?
"Cradle Your Device" the opening track on Grass Punks, is generating a buzz among bloggers and radio programmers. It's about how technology (in this case, iPhones) have wreaked havoc with the (um) more intimate aspects of a relationship. But the song that will resonate with many Troubadour readers is "Gregory Page of San Diego," a wine glass half-filled commentary on Page, a San Diego-based songwriter who has collaborated and mentored with Brosseau. It's a reminder that Page (and so many other talented local artists) annually grapple over the decision to remain in this city when other larger, more lucrative markets exist elsewhere. "I'm calling out to the universe, from Adams Avenue," sings Brosseau, "saying if you want me I'll be right here waiting for you."
My favorite lyrics on Grass Punks appear in the song "Today is a Bright New Day." "The Drayton, North Dakota Dairy Queen should be packed this time of year/I'm wondering where everybody went." It occurred to me it has been eons since I've had a chocolate dipped cone from that venerable fast-food institution. Until then, Grass Punks provides plenty of ear candy.
Available at amazon.com