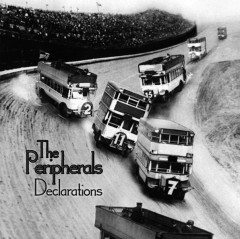 A new band, having only formed in 2010, the members of the Peripherals have nonetheless been around the local music scene for several years. Omar Musisko and Andrew Thams had been veterans of the indie bands Second Tuesdays and The Otis Turbine before forming the Peripherals. Percussionist Dylan Jones joined the band sometime after 2010. With their first release, Declarations, this San Diego-based trio gives us ten new tunes that will most certainly please their fans and gain them a few new ones as well.
The roots of the Peripherals' music go back decades. Almost in homage to their lineage, the back cover of the CD shows them, instrument cases in hand, strolling down one of San Diego's byways as some sort of throwback to all those freewheeling folk singers and bards that sang their songs of freedom and protest during the sixties. They also have something of the second folk song rage that came a decade later, with influences of Crosby, Stills, Nash, and Young and John Hartford.
Though their roots go back to when their parents or possibly even their grandparents strummed guitars on street corners, the band most certainly has an up-to-date sound and approach to crafting their lyrics. I was pleased that their tunes incorporated unusual chord changes from time to time. They also employ the electric guitar in some interesting and not necessarily predictable techniques. It seems that if you took the acoustic out of the acoustic rock of Mumford and Sons or took the arena out of the arena rock of U2, you'd probably have a pretty good description of the sound of the Peripherals.
The songs range from the introspective, such as the first selection "Baltimore" and "Psychic Alcoholic," to more light-hearted songs such as "Spun" and "If So." "Spun" is possibly the cleverest tune on Declarations, with a delightful refrain that repeats: "spinning spinning spun spinning." It's catchy. After I played the disk this was the tune that I was humming to myself 20 minutes later. I was particularly struck by "Life in the Light." With the loosely played harmonica, it is somewhat Dylanesque, and the refrain "Live the life worth dying for" is inspiring and liberating.
The cover of the CD is a photograph of a double decker bus race, with people actually riding atop the busses as they careen around a racetrack, proving that if you give people enough stuff and enough free time, they will do anything. I know we live in the age of the Internet and Google, but how did these guys find this image? Did one of them turn to the others and say, "Guys, I'm going to put "double decker bus race" in Google, and that's what we're going to put on the cover of the CD."
Declarations is a fine effort for this young independent band. I'm eager to hear more of what they can do.
ww.theperipherals.com