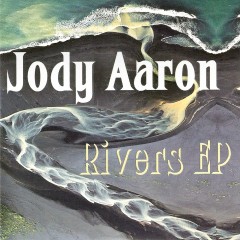 A gifted songwriter can cast a spell on the listeners and quiet a noisy room. Jody Aaron's writing talent has snagged awards (including first place at the CNN International Talent Competition), and he has placed songs on several TV shows. He also works in the music publishing biz and has worked with top Nashville co-writers and producers. His Rivers EP reflects his experience, connections, and talent: a five-song excursion into mellow, catchy pop.
The slickly produced set takes off with "Bed of Thorny Roses," which finds Aaron singing about falling victim to a tempestuous lover, only to "lose all control." The tune has a great hook, driven home by tight acoustic and electric guitars. Things keep going strong with "Where Do We Go," as Aaron and acoustic guitar ask quiet questions about life, setting up a bustling bridge with a time signature shift that seems to answer his queries, only to dissolve back into the soft contemplation of the intro.
"Sleep, Little Boy" is just what it sounds like, a lullaby. There is still room in the world for these, and it works fine. The album closes with the highlight, "Read My Mind." A first-class arrangement has this one beautifully set to a backwash of cellos and echoing guitars, while Aaron fingerpicks and sings, "Shine on star girl/You brighten up all the sky."
The Rivers EP gives a tantalizing and, at less than 18 minutes, very brief taste of Jody Aaron's considerable songwriting chops.