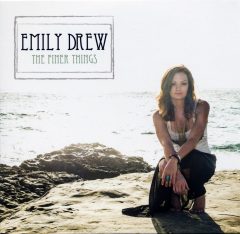 The footprints on the way to Emily Drew's debut EP, The Finer Things, look familiar: adopting music as a hobby at first, writing a few songs for open mics, then a few years while moving around, getting some material together. Demos and a web page, then local songwriting contests. When the chance came, she was ready for the chance to frame her music in fully produced form. Drew plays acoustic guitar and sings, and Alexander Dausch (Signature Sound Studios) plays everything else as well as recorded the disc with plenty of studio polish.
Drew is a good singer who sings relationship songs, with sweet harmonies and snappy melodies. She wisely stays steadfastly with pop, avoiding the Taylor Swift wing of country-pop schmaltz while singing in an engaging voice that never tries to wail or warble. "This Is Love" and "Salty Skin" are highlights that ride waves of background harmony and show Drew's gift for writing a hook. Her lyrics work well: "It ain't about anything but here and now… There's no time like the present to love like you don't know how."
She can be introspective on some quieter, folkish tunes like "Don't Wanna Be Right," and the catchy "One Tiny Piece." The tune that shows the most range is "Dreaming Away," which is a beautifully produced song about soul searching with Drew showing some real vocal chops and emotion. Along with the other sharp tracks, it's a sign of good things to come for Emily Drew.