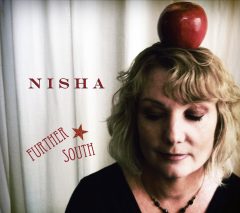 In our quest for truth and self, the road less travelled in life is the one we should all take, at some point, if we expect to get somewhere in this world. For singer-songwriter Nisha Catron, she has certainly applied this theory to heart; on her album, Further South, she jumps into her car and heads for the open highway, never knowing what lies ahead for her. Although she has logged a million miles in her lifetime, she realizes that the journey is far from over. An incredibly honest soul, who unabashedly shares her passions and vulnerabilities on this Sven-Erik Seaholm production, Catron isn't afraid to shed the emotional armor that imprisons the majority of us.
In the title track, "Further South," Catron leaves her troubles behind in the rearview mirror: "Keep driving further south/Go down as far as you can go/Keep driving further south/To somewhere I've never seen/To somewhere I've never been." There's a fire burning deep within this woman in "Can't Stop Dreamin'," which has Catron making sublime promises to the one who has captivated her desires. We can only hope, for her sake, that all of these noble intentions do not fall on deaf ears.
Something deliciously wicked walks this way in "Love's Angel," a song that was born out of the "wonderful imagination" of our heroine. This roadhouse-blues number challenges the best of its genre, while struttin' its badass self across the bedroom floor. Catron rails against the injustices of our society and the powers-that-be in the Neil Young-style rocker "Lost One." According to the artist, the composition was "inspired by an old, homeless woman I would see in Hollywood." This politically charged anthem takes a controversial stance on the way things are handled in this "sweet land of liberty" and dares to ask, "Who will right these wrongs?"
"So He Won't Marry You" reveals the heartbreak Catron felt after a marriage proposal was broken off by a longtime love. Solace for her sorrow was assuaged by childhood memories of her beloved mother, Gloria who passed away in 2006 and was the inspiration for three of the tracks on Further South – when remembering how she would play one particular album from the band Blood, Sweat & Tears "over and over and over."
"Echoes of Simple Minds," by way of their 1985 hit, "Alive and Kicking," unite with flourishes of Melissa Etheridge in the superb "Keep Me Warm." Although Catron displays a brilliant sense of urgency in this tour de force, it's the guts-and-glory style playing of guitarist Peter Bolland that drives this song home to its distilled-in-some-serious-reverb climax. "Emily" slips through corridors lined with the whispers and shadows of the late poet Emily Dickinson. Joined by Brooke Mackintosh on vocal harmonies, the golden-voiced duo dutifully immortalizes the legacy of this great American writer for the rest of us to cherish… until the end of time.