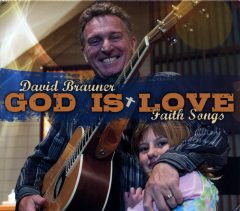 Contemporary Christian music was relatively new in the late '60s when this writer was strumming a green Fender Jaguar in churches that included St Louise in Crest, St Andrew's Presbyterian, and Christ the King in Southeast San Diego. The novelty of bands with drums, electric guitars, and music by writers like Ray Repp and local singer/songwriter David Yantis drew enthusiastic worshippers from as far away as LA on Sundays, to hear an exciting new hymn liturgy mixing gospel, folk, and rock. The genre has thrived ever since, with multitudes of musicians combining their musical talent with their faith. San Diegan David Brauner's Sunday gig is at Westminster Presbyterian Church in Point Loma, but he has been writing and performing inspirational music for years, including God Is Love: Faith Songs, his new CD.
Brauner's ten original songs are in many respects like most Contemporary Christian music: sing-alongs with simple melodies that can be sung by an entire congregation at once, with upbeat messages about New Testament God, the exploits and lessons of Jesus, and a life of faith and good works. In the process of getting these stories across, Brauner doesn't hesitate to play both a little bit of country and a little bit of rock and roll, and his backing band on this album includes Peter Bolland on various guitars and dobro as well as Sven-Erik Seaholm on guitar, bass, and keyboards. In addition to being two-thirds of the sometime trio Allied Gardens, both are contributors to the Troubadour, and Seaholm produced the disc. Also on the session are Brooke Mackintosh, violinist Greg Lawrence, and drummer Bill Ray.
"Happy New Year" is one of those everybody-join-in hymns, and Brauner's smallish, well-worn voice sounds more than a little bit like Bob Dylan's. For "We Live by Faith," the band is rocking joyfully, "Faith'll move mountains He said/ Then He fed 5,000 with some loaves of bread." This one and the title tune, a chiming folk rocker with a Byrds vibe, both solidly deliver an affirmative lesson while boogying to beat, ahem, heck. Nice lap steel by Bolland helps make the country-flavored "Keep Me Coming Back" a disc highlight, with a focus on personal renewal, "I'm picking up your book/ Taking a second look."
Brauner is hitting on all his gospel cylinders for "Shout It!," another standout track with clapping and great call-and-response lyrics about raising the roof in celebration, all propelled by Bolland's nifty guitar fills. "Get in the Boat" gets a shot of bluegrass with fiddle and dobro, and it seems just the right kind of sound for a tune about Noah's ark and Jesus walking on the Sea of Galilee. The finale here is "Put It in Your Mind to Be Kind," and Brauner does a bit of preaching to the folk melody, "No don't you squawk when friends talk/ If you can listen some too/ Your friends will listen to you."
David Brauner's God is Love: Faith Songs is uplifting inspirational music, rocking the body while speaking to the soul.