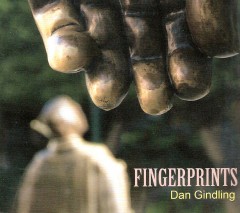 San Diegan Dan Gindling says he started writing the songs for his CD Fingerprints a year after his wife's 2008 passing, as a sort of therapy. Citing Springsteen, Jason Mraz, and Jackson Browne among his influences, his laid back, mostly acoustic songs are mellow, friendly glimpses into his life experiences. On the disc, Gindling doesn't shoot for the moon, try to redefine roots music, or become the next Dylan; rather, the listener gets to know Dan Gindling and his often sad, sometimes quirky world better for having taken the time to listen.
Musically these are simple folk-style songs with plenty of warm harmonies, banjo, and wood guitar strumming, harp, violin, organ, and even some sax recorded nicely with Gindling's gravelly voice fitting neatly into the lead vocal slot. Several of the 11 songs relate to his loss, others to a more recent relationship.
"Pulling Covers" is a soft and somber tune that starts with "Tell me what happens/When someone dies," setting the stage for six minutes relating the pain of loss. The tune clearly represents a personal catharsis for Gindling, and listeners who have felt themselves in the pit of despair after having a loved one taken away may relate in much the same way. The next song, "Running Away from Love," about a cold woman who is avoiding commitment, retains some of the minor-chord dread of "Covers," and a sense that the same emotions were still at play. "Veteran's Day" is about alienation, from the viewpoint of a battle-scarred veteran, "I just know I can't go home" is the chorus. The tune is topical, with a poignant message and catchy melody, anchored by a soothing sax solo, adding up to a disc highlight.
Gindling stays in memento mode on "I Still Remember You," an ode to his departed love, this one has a hook that pulls it up a notch. The most brisk song on the disc is "When Love Comes a-Knockin'," which hustles along on a sharp acoustic guitar lick. This is another tune in minor modes, warning of the danger of hiding your heart, "Love has a way of stripping you/ Exposing all of your needs." "Fingerprints" is a bit of relief from a mostly cloudy musical day; Gindling captures a lighter moment with lyrics about how his new lover has her fingerprints all over his life, and he is fine with it.
The lighter mood doesn't last, but with reason: "The Same Gun Show" is a song that needs to be sung, about the Sandy Hook slaughter. While the lyrics eventually become a clumsy sermon, Gindling is spot on in his sentiments. Folk music is supposed to protest things like the NRA and children being needlessly killed, and Gindling steps up to the plate here. His goofy "The Rapture" helps recoup some quirk points with its tale of his worrying that if he gets taken to heaven, his cat might pee all over his house.
Dan Gindling's Fingerprints is a very personal batch of songs, with some catchy moments.