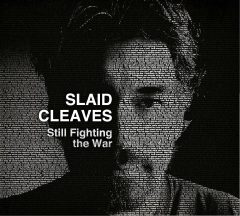 Slaid Cleaves is an Austin-based folk singer-songwriter who regularly appears in San Diego (his next show, at AMSD Concerts, is scheduled for Saturday, November 16). Cleaves has been described as having "a novelist's eye and a poet's heart," and his new album, Still Fighting the War, bears this out. But he is more than a wordsmith or storyteller. Cleaves also has a warm, comforting voice, an irresistibly earnest persona, and a knack for catchy melodies.
The 49-year-old Cleaves was raised in Maine but has refined his craft as a musician for the past 20 years in the Lone Star State, explaining the wry, yet heartfelt lyrics to "Texas Love Song," one of the standout tracks of his latest effort (with harmony vocals by Terri Hendrix). Cleaves has six prior national albums under his belt, including the acclaimed 2000 Broke Down, the title track of which was an Americana radio hit.
Still Fighting the War contains 13 songs, all written (or co-written) by Cleaves. The title track (with harmony vocals by Jimmy LaFave) is a hard-hitting ballad about a traumatized Iraq war veteran and his difficulties adjusting to civilian life. "Without Her" is a touching love song, undoubtedly inspired by his wife of 19 years, Karen. "Rust Belt Fields" and "Welding Burns," both co-written by childhood friend Rod Picott, are bittersweet reflections on the blue collar culture and the dislocation caused by the global economy. "Hometown USA" is an elegant vignette about the disappointment of dreams going unfulfilled in small town America.
"Gone" is a taut and poignant – but never maudlin – tale of a couple's lifelong love affair, from childhood to senility. The tone shifts in "I Bet She Does," a wistful breakup song, and shifts yet again in "Whim of Iron," a jaunty tribute to a feisty woman (based on one of Cleaves' relatives). "God's Own Yodeler" (recorded and produced by Lloyd Maines and featuring him on pedal steel) is a paean to Cleaves' departed musical mentor, the great Don Walser, who taught Cleaves to yodel (an increasingly rare skill, on display here).
"In the Rain" (with harmony vocals by Eliza Gilkyson) laments "your wasted years," but "Go for the Gold" inspires how to "save your soul." And the closing track, "Voice of Midnight," is a melancholy peek into the abyss of mortality. A varied and thought-provoking assortment of songs, these.
Since winning the coveted New Folk award at the Kerrville Folk Festival in 1992, the low-key and underrated Cleaves has labored diligently to achieve commercial success, which so far has eluded him. In the meantime, however, he has stayed true to his artistic course, earning critical recognition from publications as diverse as American Songwriter and the Wall Street Journal. Still Fighting the War will make you a Slaid Cleaves fan, if you are not one already.
Slaid Cleaves appears in concert on Saturday, November 16, 7:30pm at AMSD Concerts, 4650 Mansfield St. in Normal Heights.