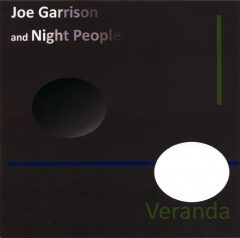 Although Joe Garrison has played music around San Diego for a long time, he is not as well known as many of his colleagues. That's unfortunate, mainly because he is a musician of considerable talent and imagination. Garrison spent a few years living in the Northwest but has recently moved back to San Diego. Since his return the pianist and composer has assembled Night People and released Veranda with this ensemble. This is a highly recommended CD, which I've played several times now on my stereo. Each time I listen to it I discover something new. If you're any kind of jazz fan, Veranda deserves your attention.
Garrison has performed Night People as a nonet but here he includes almost twice that number of musicians to make their contributions to this recording. If you've read this far, you're probably hip enough to the local music scene to know what each musician plays, so I'll just list the performers: Fernando Gomez, Rob Thorsen, Armando Silva, Derek Cannon, Gilbert Castellanos, Kamau Kenyatta (who also served as the recording mixer and engineer), Daniel Jackson, San Diego newcomer Ben Schachter, Curt Miller, Kevin Esposito, Dan Reagan, Matthew Smith, Michael Armstrong, Paul Nowell, Lynn Willard, David Castenada, and Richard James.
All six selections on Veranda were composed by Garrison. Hearing some of the newest jazz, I'm left with the impression that a great majority of jazz composers today are set adrift, unsure of what audiences want or will accept, and unsure of what they, as composers, really want to say. Garrison, however, is one composer with a great deal of certainty in what he wants from his music. The music is confident, but not afflicted by too much swagger; original, but not burdened with the quest to stake new musical territory.
If you're looking for a reference point as to what Garrison and Night People are all about, the CD gave me the same impression that some of the recordings Amina Figarova has given us over the last two decades, although the ensemble playing on Veranda is just smoother and way more together than what the Azerbaijani-born jazz artist has achieved in the studio. The coloration of Garrison's arrangements, which include the wonderful deep, deep notes and timbres of the bass clarinet, are also richer. We're in Oliver Nelson territory here and the quality of the recording is tops. In particular, I appreciated how well the bass (a difficult instrument to record) comes through. It is rich with a great deal of definition.
Just a couple more things: "Sun Soul" follows "Veranda" on the CD. Both compositions are spare and based on similar themes. I had a difficult time distinguishing one from the next. The piano sounds great. A fine instrument, recorded well, and also tuned better than I've heard from many other pianos lately. Whoever tuned that piano really knows what he's doing. And who plays the sax at the very end of the last selection, "Conkyland"? He plays incredibly well!