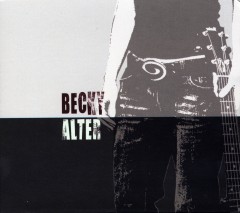 Folk/pop performer Becky Alter, based in Austin, has been touring the Southwest in conjunction with the release of her self-titled CD. Though a veteran singer/songwriter with previous releases in 2006 and 2008, her new album is sort a re-invention of herself as a minimalist folkie. She plays all the musical accompaniment on her ten originals, mostly consisting of single tracking of acoustic guitar and mandolin; she also handles all of the singing, including overdubbed background vocals. The results are bare-bones arrangements highlighting Alter's striking voice, best described as Ani DiFranco meets Joan Baez. A bonus is an insert that includes the lyrics to all of the songs.
A soft and gentle guitar finger-picking pattern sets the groundwork for "Nana's Lullaby," as Alter pours on real emotion, singing about her grandmother's dignified passing: "Last night you woke me from my dreams/You're gone but I know you came to me." The tune has won songwriting kudos for Alter, and this arrangement has ethereal backing voices and empty spaces for a quiet, reverent effect that is just right. "The Porch" is a lively mandolin song that clicks as she sings about the evening on the New Mexico mesas and just wants to watch the day turn to night.
Alter previously released "You" as a single, and her vocal on it is full of breathy affectations and (as on a few other tracks) guitar playing that loses its giddyup in the middle of a song. The song isn't really bad, but Alter sounds like she is trying to imitate someone else. "Lovebird" follows, in the same minor key but played and sung more as a straight folk song. "Voila," a standout track on the disc, is the only one to use both guitar and mandolin and it packs power that recalls Baez in her heyday, never losing steam. Alter hits some sweet high notes as she warns: "You cannot fight on your way down/You cannot hide from the truth." As if sticking to a winning formula "This Affection" pushes most of the same buttons and stumbles only in a few spots when Alter's elaborate finger-picking switches into and out of strum patterns and minor beat problems inherent to one-take single track recording.
"Along This Road" is another tasty bit of folk, with mandolin backing and full voice about how "The girl I knew along the road/Fell along the way." Alter's vocal alter ego, which has a nasal inflection, pronounces "baby" "buybuy" and tends to slur some of the lyrics, reappears on "Broken Hearted Blue." This seems to be a stab at a jazz persona and may appeal to some listeners, but in some respects this singing style (also heard on "You" and "Uh Oh") sort of combines baby-talk intonations with an imitation of Ricky Lee Jones; her best tracks are sung clear and straight-up. And there are plenty of those on this disc, which shows Becky Alter to have emerged as a folksinger with something to say.