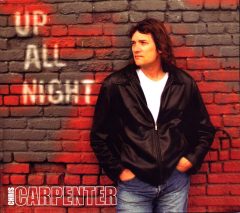 Keyboard-pop artist Chris Carpenter has already made a splash on the local scene, winning a songwriting contest and garnering SDMA nominations in both 2012 and 2013. It's not hard to see why on the local singer-songwriter's debut CD Up All Night. He writes strong material, sings it confidently in a powerhouse voice that is a ringer for Elton John, and the disc's 10 tracks are laid down in uncluttered arrangements (Carpenter also produced), which keep the spotlight on his pipes and the ivories, avoiding distractions.
He also wisely stays with adult contemporary pop-style music with an old-school vibe, crafting medium-tempo ballads and not trying very hard to be a rock 'n' roller. In fact, the opener, "Running," comes closest to breaking the mold, with a fairly brisk beat, some sharp keyboard playing, and even a hot guest guitar solo. This one works fine, but for the rest of the disc Carpenter is weaving stories with mellower fabric. The standout title track is a great example, with a simple piano riff leading into an instantly memorable melody, with Carpenter painting the picture, "I've been up since 4am/ And I can't tell if you're with him/ Wonderin' just where I fit in." The next tune keeps the level high, unfolding like one of John's mid-'70s pop epics; "Schoolboy Crush" has hooks and catchiness like the title track, and locks the listener in with its radio-ready groove.
For "Hard," Carpenter uses electric piano and gets a different texture with a slow ballad about how difficult love is, "Before you start/ You've already lost." This song is well played, but at nearly five and half minutes it seems to over-plow the same piece of musical and lyrical ground. "No Truce" is livelier, with a message that he has blundered one time too many and his lover has no interest in apologies – with good lyrical imagery in this tune as he sings about "You make me kiss your shotgun" and "I got no more life to waste on you." The addition of violin to the slow, anguished "Cruel" results in another good song that sounds like and could pass for any number of early John album tracks.
Carpenter scores another highlight with "Without You," and again it starts out with a fairly simple but very hummable hook. One of Carpenter's strengths is the way he generates dynamics with his keyboard skills and evocative vocal: starting small, building up, and coming back down, all with just his voice, keys, and rhythm section. The closing track is "Rainboots," this time just Carpenter and his piano for nearly six minutes. He keeps the listener involved, as elsewhere, by capturing sharp lyrical images and metaphors: "I left my rainboots on/ Like I'm expecting life to rain… To wade through the pain"; and with his riveting voice.
The music on Chris Carpenter's Up All Night shows a level of development and polish that recalls the piano balladeers of 40 years ago, while at the same time sounding fresh and original. It is a great listen.