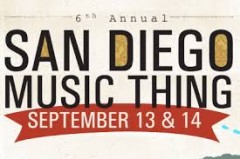 With 150 bands on 16 stages and over 20 music workshops, every music lover or musician is bound  to be entertained or informed at the 6th Annual San Diego Music Thing this Friday & Saturday.
About San Diego Music Thing:
Formerly called the North Park Music Thing, this event is an annual 2-day music and media conference scheduled to take place at the Sheraton Hotel in Mission Valley and various venues around San Diego. Registrants have the opportunity to improve their knowledge of the music business through interactive and roundtable sessions with nationally-known panelists and featured speakers who represent the best and most innovative aspects of the music business. Day time activities include a trade show, happy hour parties, listening stations and pop up live performances as well as a chance to meet and mingle with top industry professionals and artists.  Evening activities include the Music Fest, with over 150 local, regional and national bands performing at venues around San Diego.  The San Diego Music Thing is produced by the San Diego Music Foundation and proceeds benefit the Foundation's experiential music programs in 65 schools around San Diego County.
About the San Diego Music Foundation:
This organization works to enrich San Diego's diverse and creative music community through music education for youth, professional development for current and emerging industry professionals, live performances for the San Diego public, and recognition for San Diego artists of exceptional merit or service. Chartered in 1991, the San Diego Music Foundation was created to make music performance accessible to children of need in San Diego County by providing them with a hands-on vehicle, the guitar, to express themselves creatively.  Over its 20 year history, the organization has served over 35,000 K-8 students county-wide from Chula Vista to Fallbrook. In subsequent years the organization has broadened its focus and service areas, providing forums to increase local musicians' understanding of the music business, garner performance exposure within the local and national music communities, and to publicly recognize the breadth and diversity of the San Diego music scene.
More info:
Attending this conference and festival is a great way to network, show your support for local music and music education, and learn about the music industry. Visit www.sandiegomusicthing.com for a list of workshops and performances/venues. Several different ticket options and price ranges are available.