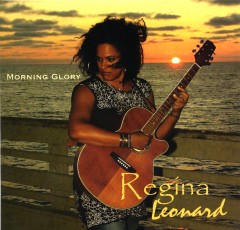 Regina Leonard is an LA pop singer/songwriter whose EP, Morning Glory seems to be a great voice in search of a signature style. The seven tracks, most originals, seem to throw one musical genre after another at the listener, hoping one will stick; the unevenly mastered disc blasts Leonard's voice twice as hot on some tracks as on others, and the cover sleeve has the tune sequence scrambled. Despite these hiccups the disc has good backing musicians, some captivating songs, throughout, Leonard's glorious pipes.
"Where Lover's Go" starts off and is a mellow pop/soul ballad that is lushly arranged, with swirling backup singer choruses. It sounds like a shot at radio and might get there, but "Joy" is better, with a simple bossa-nova guitar/percussion groove and Leonard in charge on the vocal about "I know they're trying/ And they wanna /But they can't take away my joy." It's a winner that has some jazz DNA; probably a better fit than "Stable," which is about a narcissistic lover who wants to go to Nashville to be a country star; the acoustic guitar and pedal steel aren't a great fit with Leonard's smooth, soulful vocal delivery. This is borne out on "Street Light," which hits home, a musical picture of the despair of a woman whose life has tailspun from small-town life to single motherhood: "And tonight she's working in the shadow of the streetlight." The title tune is a lively R&B change of pace that will get the listener moving. It's also mixed so loud that the next tune, a bland cover of Nick Lowe's "You Make Me," sounds like there is something wrong with the listener's player.
Regina Leonard's gifted voice is the star attraction of Morning Glory.