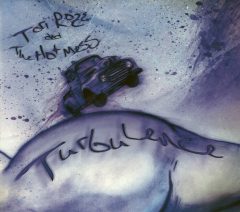 "This is the dawning of the age… And the moon is in… And peace will guide…"
With these lyrics Tori Roze playfully opens her recent release Turbulence. Riffing off "The Age of Aquarius," the aspirational anthem of the Baby Boomers from the musical Hair, which hit Broadway some 45 years ago, Roze and her band, the Hot Mess, signal that their roots are in the rock and soul of the sixties.
But if you think Turbulence is a rehash of what grandma grooved to while she burned her bra, you've got another thing coming. There is not a whiff of patchouli or tie-dye in this disk of eight songs. There is no effort to recreate the psycho funk of Sly Stone or mini soul symphonies of Earth Wind and Fire. You will not hear a guitar with a wah wah pedal. The screaming Hammond B3 organ has been dropped as well. This is soul for today: tight, sophisticated, and up-to-date.
Trombonist Jordan Morita provides all the arrangements for the tunes on Turbulence. They are fresh and inventive without any apparent attempt to be too clever. Although many of the arrangements eschew a keyboard, with the only horn and woodwind being Morita's trombone and the flute of Lee Clark, Roze's mother and long-time music veteran, the band has a strong presence and really fills up the room with its sound.
Morita plays fluidly; he also has a rich, muscular tone. One of San Diego's best up-and-coming bassists is Harley Maqsino. His thick electric bass, with the drumming of Charlie Weller, give all the tunes an exceptionally solid foundation. With funk and soul, the rhythm section is where all the action is, and these guys know it. Guitarist Johnny Alexander, a Guitar Institute of Technology alum, fits into the mix so well that it could be easy to overlook his talents here. A few tunes add John Wilds on trumpet and keyboardist Ben Moore.
The gravitational center of the Hot Mess is Tori Roze, a vibrant and original singer. We lost Amy Winehouse all too soon. But we are lucky to live in a time when such great female singers as Winehouse and Adele have enriched our sonic landscape. It's great to hear singers really sing.
Like Adele and Winehouse, Roze is a powerhouse of a vocalist with a take-no-prisoners approach. She will advance or retard a phrase, playing with the rhythm of the tune. Roze also stretches the limits of her voice, pulling out all the stops for a full-on vocal assault. Clearly, she is willing to test herself and test some extremes. She is also willing to test her listeners. I'm not sure if I wanted to go everywhere she was going, but I'm really glad that she wanted to take me there.
Turbulence clocks in under 30 minutes, almost qualifying as an EP. Every tune is, however, a winner and a showcase for some great talent.