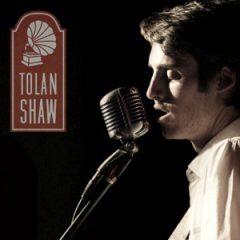 Every now and again, unfortunately less often than I'd like, a record comes along where I sit back, listen and just think "Wow." I experienced this for the first time this year when Tolan Shaw emailed me a download link for the final masters of his full-length solo debut, Tolan Shaw.
The very first thought I had, roughly nine seconds into the listening experience, was surprise. I even muttered, "This is not what I was expecting." The opening groove of "Unstoppable" introduced something pleasantly different from Shaw's previous work; a warm Muscle Shoals-style soul with a genuine instinct for mixing just the right amount of musical technique and feel. Continuing into the bayou revival of "Waiting," Shaw's voice flows around the backing singers and horn section effortlessly as you're transported into the front row of one of New Orleans' smoky Frenchman Street clubs where that level of musical intuition doesn't often leave the city limits. By track three, without losing steam or interest, Tolan Shaw slows just enough on "Meant To Be," a song that in another time or place could easily be mistaken for a Wilson Pickett classic played out by The Commitments. There are a dozen or so moments during Tolan Shaw where many vocalists would choose to overreach; the beauty of fireside gems such as "Satisfaction", "Come Back" (a personal favorite) and "Awake" are where Shaw lays back and allows the music to breathe around his thoughtful lyrical messages. If there are any concerns that Shaw is unable to fully open up and reach that magical moment reserved for only the best vocalists on their best recordings, the rousing apex of songs such as "Mama" and "Change" dismiss those negative notions immediately. "Change", along with "Why Me?" and "Everything's Not Lost" flex Shaw's admitted penchant for electric guitar-driven Blues, executed in a way that permit them to stand comfortably with the greats – no excuses necessary.
It would be a grave injustice for this review to ignore the masterful production of Tolan Shaw in the informed and capable hands of Jeff Berkley. Shaw said it best during our interview where he felt Berkley knew technically when to produce and instinctively when to lay back. Not only is this an accurate summary of the resulting production, but a skill set such as this is almost mandatory when tackling instrumentation as fluid as that required to truly capture the intended Muscle Shoals sound. Since that sound originated, there have been many more examples of mere imitators than genuine successes in the quest to reproduce and Tolan Shaw is a clear victory, sitting squarely in the latter category of success. The all-star cast of session players only amplifies the strong musicality behind this record, each of whom should be very proud to include this record on their résumé.
Tolan Shaw is a giant leap forward for a relatively young artist. This is a record that will turn even the most casual listener into an instant fan.
Read the interview with Tolan Shaw this month, including a complete breakdown of all the songs on the album.