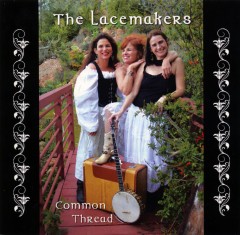 San Diego's Lacemakers' eponymous 2012 debut CD was a delightful batch of acoustic folk with roots in the hills of Ireland, Scotland, and American coal country. Ten of the 13 tracks covered traditional songs, giving them a shot of energy and affection with the trio's trademark spot-on wooden accompaniment and sweet-spot three-part harmonies.
Heloise Love (vocals, guitar, Irish whistle), Kim Donaldson (vocals, fiddle, banjo), and Miss Darla (vocals, guitar, percussion, harmonica, autoharp) are back with Common Thread. The new one has the Lacemakers sound and 13 tracks, but it is all originals, eight of them by Donaldson. With few exceptions, the songs stay very much in the Celtic and bluegrass genres, with touches that often add a dated, rustic feel.
While many of the tunes are story songs, some also have something personal to say: "A Cautionary Tale," by Love, is a foreboding banjo and whistle melody framing her words of uncertainty of the heart, having "no clear path to follow." Donaldson's "The Madam of Cripple Creek" is fun from the country/bluegrass waltz tradition; it's all about pretty Pearl, with the sequins and long crimson hair and her house of young girls. You guessed it, Pearl ends up in a lavender casket; the backing on this tune has some great banjo and fiddle playing by Donaldson. "I Am of Ireland," by Miss Darla, is a highlight. She is an immigrant who has come to America only to see the promise of a better life end in the drudgery of work as a kitchen servant. The song has the sad but firm melancholy that marks good Irish ballads, about "longing for her home far away," even as she tells of her rich master and nights of "feeling the breath of his crime."
On a Lacemakers' album, it is no surprise to find the song "Macrame," a light bluegrass fiddle/banjo square dancer with a memorable hook and clever lyrical metaphors by Donaldson about how her youth, and how much of life is all tied together. "The Devil's Box" builds a clever fiddle tune around the melody of the traditional "Billy in the Low Ground," adding a funny story about Samson Babbs being kicked out of the Quakers for playing the devil's music – "a jig or a reel." Miss Darla's "Georgia Line" is a personal storyboard, a country song of yearning about wandering away from home and the folks there, and looking back on a lost relationship.
"Stalemate" catches the ear with whistle figures, as smart lyrics tell about how life or relationships are a series of chess moves, with sacrificed pieces, taking turns to advance and retreat, only to eventually result in a draw. "Carol's Song" is a step outside of the Celtic and bluegrass box, as Love's song is a straight-ahead harmony pop tune dedicated to the memory of a lost loved one, and celebrating the moments of our life as we go on – "She's looking at us all."
Common Thread is great acoustic harmony music that fulfills the promise of the Lacemakers debut and adds the dimension of solid original songs.